---
Housing Starts & Building Permits Weakest Since COVID Lockdowns
Housing Starts and Permits have declined for 3 straight months but today's data for January was expected to be more mixed with permits rebounding modestly while starts continue to decline (all while homebuilder sentiment expectations soars by the most ever). The forecasters were right in direction but way off in magnitude as Starts tumbled 4.5% MoM (and December was also revised notably weaker from -1.4% to -3.4%). Permits rose just 0.1% MoM in January after a 1.0% MoM decline in December...
Source: Bloomberg
That is the 5th straight monthly decline in Housing Starts - the longest streak of declines since 2009.
The total Starts and Permits SAAR (after revisions) tumbled to its weakest since the COVID lockdowns...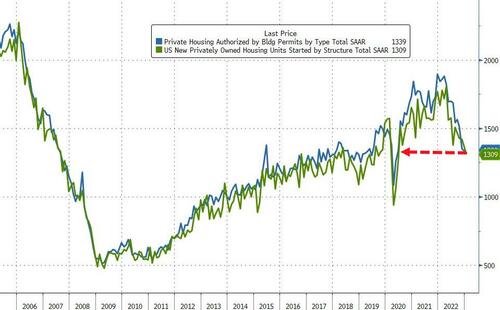 Source: Bloomberg
Under the hood, Single-family permits dropped 1.8% to 718K, lowest since May 2020 (and the 11th straight monthly decline), while Multi-family permits rose 0.5% to 563K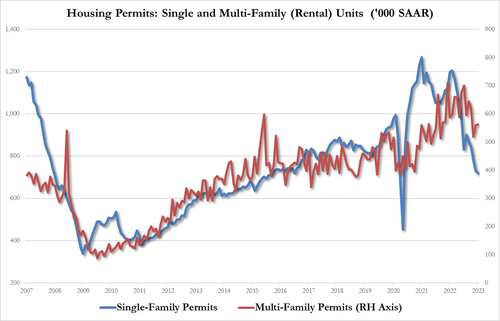 And starts fell in both: Multi-family starts tumbled 5.4% to 457K, lowest since Sept 2021, and Single-family starts drop 4.3% to 841K from 879K but above the 807K in November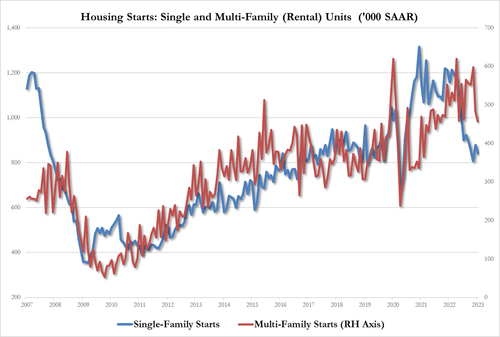 So much for the surge in homebuilder sentiment expectations...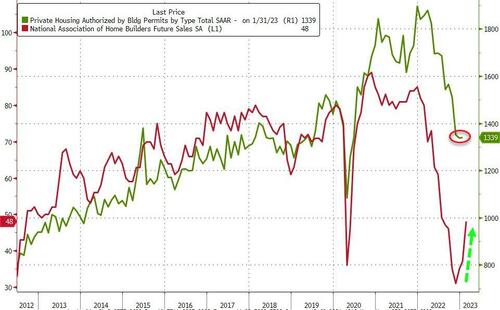 Source: Bloomberg
Finally, we note that groundbreakings on single-family homes fell in the Northeast, possibly reflecting snowstorms, as well as the West, which could have been impacted by severe flooding in California. Meantime, single-family new construction rose in the Midwest and South.
Has the housing market 'suffered enough pain' yet for Powell to back off?
Loading...