---
Housing Starts Soar To Highest Since 2006 As Permits Plunge
Following October and November's bounce in starts and permits, and despite solid sales and mortgage application data, analysts expected a mixed picture for housing data today (with growth in starts slowing and permits shrinking).
However, the data was extreme to say the least with Housing Starts soaring 16.9% MoM (highest since Oct 2016) and Building Permits shrank 3.9% MoM (worse than the -1.5% exp).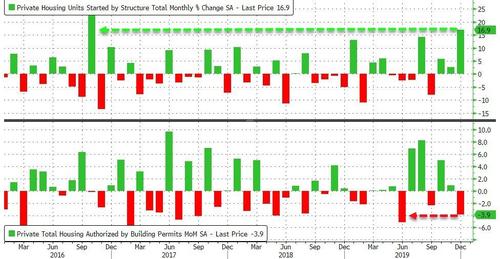 Source: Bloomberg
This pushed Starts to their highest since Dec 2006, but permits declined to weakest since September.
Source: Bloomberg
All four regions posted a gain in starts, with the Midwest, South and West showing the best pace since 2006. Starts in the Northeast were the highest since August.
Under the hood, Starts were dominated by a 32% surge in multi-family units (though single-family starts rose 11.2% MoM)...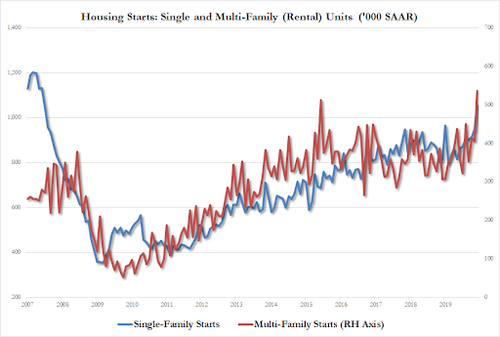 Multi-family Starts soared 75% YoY...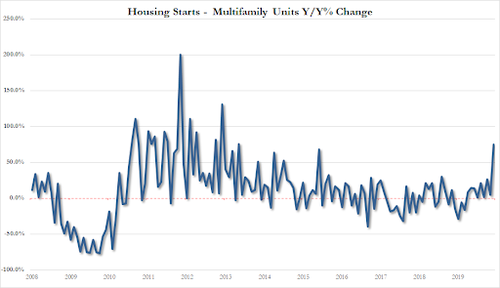 But, the more forward-looking permits disappointed...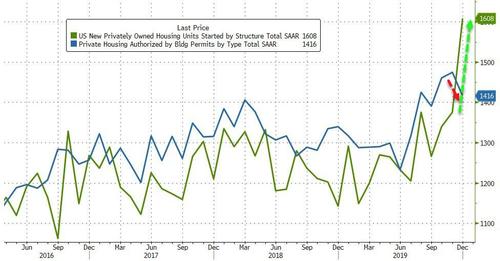 Source: Bloomberg
...as multi-family permits plunged 11.1% (single-family -0.5% MoM)...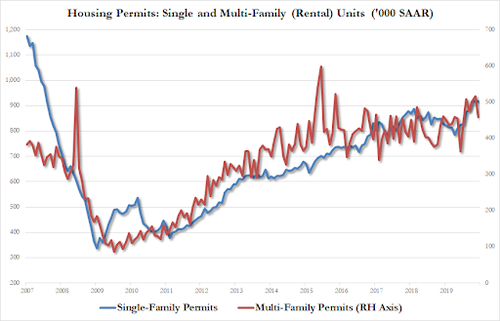 Even so, the strong overall reading on starts corroborates a jump in developers' confidence. U.S. homebuilder sentiment posted the highest back-to-back readings since 1999 in December and January amid a jump in prospective buyers and a bump in the sales outlook.
Bloomberg notes that the data indicate residential construction added to fourth-quarter growth after contributing in the previous quarter for the first time since the end of 2017. While weather may have played a role in the month's data, demand has been fueled by mortgage rates near a three-year low as the job market remains resilient and wage gains help put money into the pockets of potential homebuyers.