---
"I Told My Wife I'm Gonna Be A Millionaire": Millions Of Unemployed Americans Are Flooding Into The Stock Market
It was just a couple of days ago that we published our report showing three charts that showed "The Shift From Prospering Online Brokerages To Retail Daytrader Mayhem". 
In that article, we pointed out what is becoming seismic shift in the trading world, where thanks to the seductive cocktail of both the Robinhood app being overtly easy to use and Dave Portnoy livestreaming himself daytrading on a daily basis, every Tom, Dick and Harry with a couple hundred bucks is jumping into the market and having a go at trying to make themselves rich - regardless of whether or not they have any clue what they are doing.
Following up on that piece, last week the WSJ wrote an article sharing the same sentiment. "Everyone's a Day Trader Now," they wrote. In their article they note that e-Trade investors opened 260,500 retail accounts just in March alone. Robinhood logged 3 million new accounts over the same timeframe. They compared the influx into the market to the dot com boom of the late 1990s.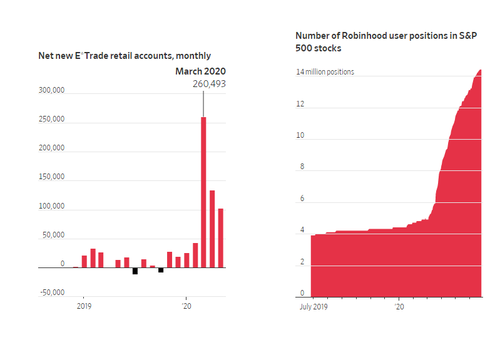 As we said last week, Robinhood is making trading feel like a video game for people that have never done it before. 38 year old Sharmila Viswasam told the WSJ: "I feel like Sonic the Hedgehog, collecting my coins."
She started trading after her unemployment checks from her real estate job weren't enough to support her. To get started, she read "Trading for Dummies" and watched YouTube videos. She calls her trading style "risky" and justified it by telling the WSJ: "Scared money makes no money."
She started with $25,000 and has parlayed it to $65,000 through July - all using her phone.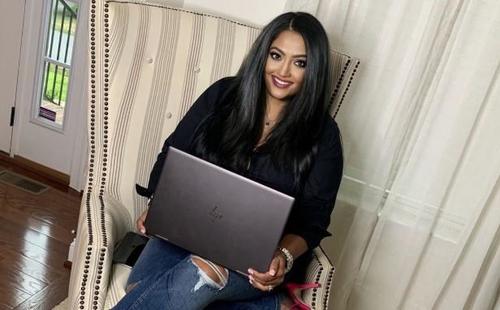 Granit Selimaj opened an account on Robinhood as soon as he turned 18 years old in December 2018. He says he was approved to trade options "moments" after filling out the application on the platform. He says he has avoided them so far, because he doesn't really understand how they work. He sticks mostly to trading stocks. 
"I'm a Level 2, and I don't know much about that," he said.
26-year-old rental car-company employee Trae Williams said he started using Robinhood about 2 years ago, but really started paying attention to it during the pandemic. He told the WSJ: "There's not much to spend money on, but also I can pay attention to it more. I have more time to do it."
"...in the wintertime, when it gets to be 20 degrees Fahrenheit here or it's snowing and raining, [daytrading] is going to be a perfect hobby for grandpa," said another Robinhood user, 66 year old Matt Miller. He says he has abandoned his buy and hold strategy to trading more actively since the pandemic began.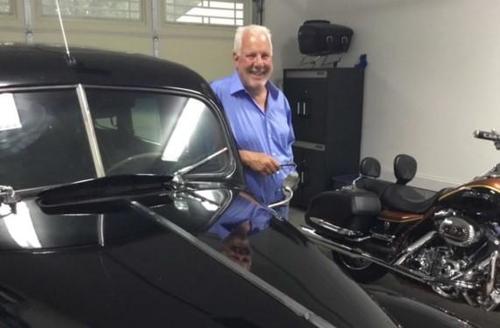 The number of individual investors in the market has more than doubled the usual level of activity this year, the article notes. This increased demand has had a self-fulfilling prophecy effect, sending shares of some companies soaring. But the addition of Robinhood traders to a stock isn't exactly a bellwether of good things to come. In fact, it's just the opposite.
"Barclays examined trades by Robinhood customers between March and early June and concluded that the more they bought a specific stock, the worse that stock performed," the Journal wrote. 
One great example is the stock of Ideanomics, which was promoted on Twitter and in videos by retired police officer and new daytrader Stanley Barsch. He has over 70,000 Twitter followers and had been touting Ideanomics as the next big thing. He even interviewed the company's CEO on a livestream for his followers.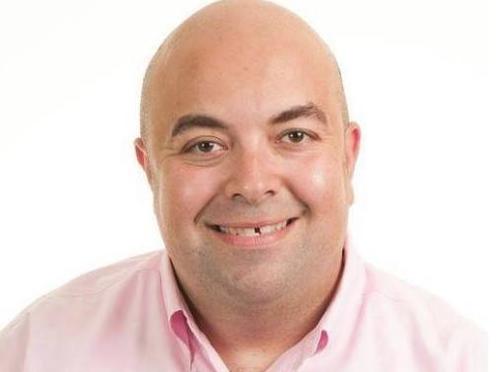 Hours after the interview, well known short seller Hindenburg Research released allegations that the company was engaged in an "egregious and obvious fraud", including photoshopping pictures of its operations in China that it was including in its press releases.
Shares plunged 21% that day and 40% the next day. Stan, who goes by the name "Stan the Trading Man" on Twitter, says he lost $27,000 on the trade.
"Some people took to social media, accusing Mr. Barsch of engaging in pump and dump," the Journal wrote. Stan sees things differently. "I told my wife earlier this year that I'm going to be a millionaire," he said. Sure you are, Stan.
Recall, this shift in the industry was captured beautifully in a series of Tweets from Bloomberg's Morgan Barna, CFA a couple of weeks ago. She showed how trading volume had spiked significantly in Q1 and Q2 of 2020.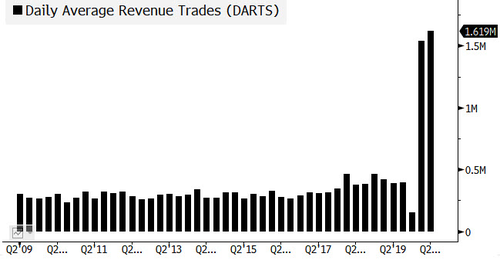 Next, she showed how Schwab has seen its revenue per trade collapse over the last 5 years, as the brokerage has tried to keep pace (or in some cases lead the charge) for lower commissions to help bring in new clients. 
For all intents and purposes, commissions no longer seem to exist for stock trades and have been almost totally priced out of the industry.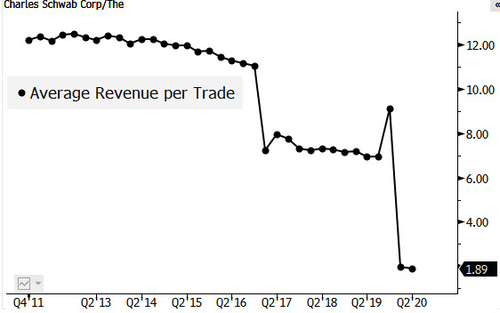 Finally, she showed that interest in creating accounts continues to rise. Among the surprises we've seen during the Covid lockdown has been the fact that Americans are actually saving money and paying off credit cards, instead of spending it, with the economy melting down and the government wiring them free checks.
They are also putting this money into brokerage accounts, as you can see below:
This lunacy in general is, of course, enabled by the Fed, behind the scenes, doing everything it can to make sure that the NASDAQ continues to hit new highs despite what has been an unprecedented economic collapse in the country.
When the average American logs on to Twitter and sees the President (or worse, Larry Kudlow) bragging about the market despite tens of millions of people unemployed, we don't blame them from meandering toward the honeypot that our country's public markets have become.
Unfortunately, what comes up must come down - and the new retail traders being lured into the market with promises of neverending all time highs and commission free trades - will likely be the first blood shed when the Fed's ponzi scheme is inevitably exposed for what it truly is and comes crumbling down.