---
"I Was Truly Alone": Florida Waiter Laid Off Due To COVID Winds Up Homeless, Living In A Tent
Waiters and food service worker have arguably been hit the hardest by the pandemic, alongside of those who work in hospitality and tourism. Not only have their industries been the slowest to re-open, many who work as bartenders, waiters and waitresses often live day to day and have few benefits.
While the government has been bickering with itself in an attempt to figure out how many more trillions it wants to print out of thin air and call a "stimulus package", the rank and file restaurant workers continue to struggle mightily. And now, heading from summer to fall, outdoor dining will likely start to pare back.
AP told the story of one such waiter, who went from working at a steakhouse chain restaurant - always with enough money for groceries and his car - to now being homeless.
42 year old Jeff Lello, who had been waiting tables his whole life, was laid off back in March as a result of the pandemic. He was clearing about $100 per night in cash at his job and "often picked up extra shifts". He never had to rely on food stamps or unemployment his whole life, the article notes.
But while he watched his savings dry up and he waiting for Florida's backlogged unemployment system, he eventually couldn't afford rent or his car. He went from living in an apartment with a roof over his head to literally living in a tent that he "purchased with his last $75". 
He had been living in his tent "deep in the woods" near "other homeless campers". He had a cot with a sleeping bag and a shelf for food and belongings. He keeps one corner of his tent for clean clothes and the other for dirty. Most days he would wake up around 7AM and find a bathroom at a local store to freshen up and wash a shirt. From there, he would go to the food bank and grab a bag of pasta and sauce. Most of the food he would give away, since it required pots and electricity - but he would keep the peanut butter and granola bars.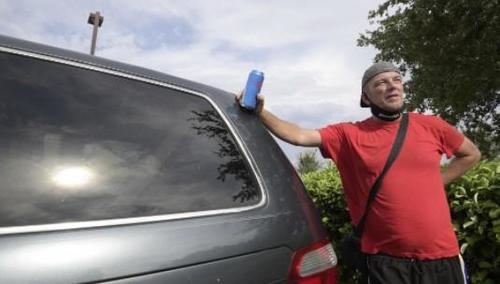 He spent his days begging for money, food or jobs. "6 weeks with no help. Please," his sign he would hold on the side of the road reads. He said people weren't exactly eager to help: "I think the most I ever got was one dollar and a bag of oranges."
He said: "I was truly, truly alone. I was going back to no one."
He spent most days of summer in the library, charging his phone, applying for jobs - and checking on the status of his unemployment claim. On his inability to get government benefits, Lello said: "I don't understand what I did wrong. Why me? I had just lost all hope in everything."
One of his closest friends supported him by bringing him all of her spare change, allowing him to forward his mail to her and allowing him to shower at her home. Finally, at the end of July, she called him to inform him that his unemployment check had finally arrived: it was $4800 in back pay. Lello took her out to Dennys, then bought a van with AC, a roof, doors and an alarm to live in.
"When you're homeless, the hardest thing is to get something hot," he said.
His experience is a microcosm of the rest of the country right now. There are 20 million people currently living paycheck to paycheck that spend more than 30% of their income on rent, AP notes. These people are "likely to experience homelessness at some point, according to the National Coalition for the Homeless".
Florida's situation has been disproportionately worse. In fact, by June, the state had not paid 40% of its 2.2 million outstanding unemployment claims. 
The National Coalition for the Homeless also predicts the number of people would could experience homelessness could rise by 45% due specifically to the effects of Covid.