---
Jobless Claims Explode Higher After BLS 'Revisions'; Tech Layoffs On '2001' Pace
After ugly ISM employment data, dismal JOLTS, soaring WARN notices, and a weaker than expected ADP print, this morning's Challenger, Gray & Christmas report announced a bigger than expected 89,703 job cuts in March (270,416 year-to-date), up 319.4% YoY. The West dominated the cuts (East 13,638; Midwest 21,764; West 48,123; South 6,178), with technology-sector companies have announced 102,391 cuts so far this year, "on pace to surpass the highest annual total for the sector announced in 2001," the report notes.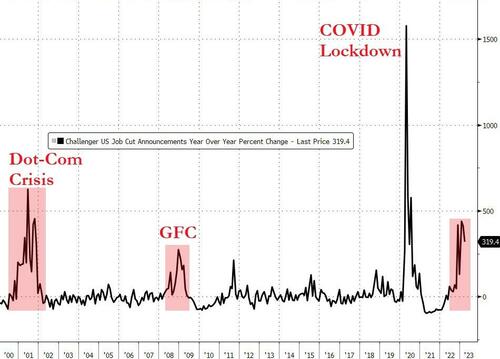 Source: Bloomberg
"We know companies are approaching 2023 with caution, though the economy is still creating jobs," Andrew Challenger, firm's senior vice president, said in statement.
"With rate hikes continuing and companies' reigning in costs, the large-scale layoffs we are seeing will likely continue."
As we detailed overnight, this morning's jobless claims data comes with a giant caveat as BLS is about to drop the 'revised' series of data.
With the BLS lies finally over, initial jobless claims soared to 228k - This is the 9th straight week with initial claims above 200k... post revision of course.
Continuing claims surged above 1.8mm, its highest since Dec 2021...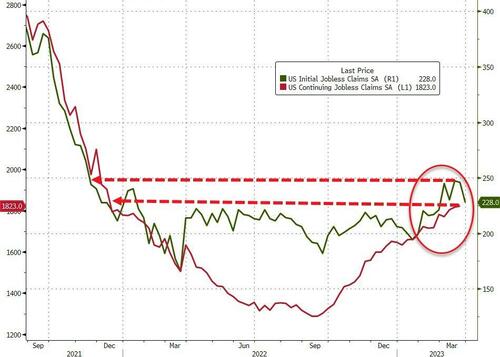 Source: Bloomberg
The so-called 'adjustment' is shown below - just as we have suggested, the last 3 months have seen dramatic upward revisions...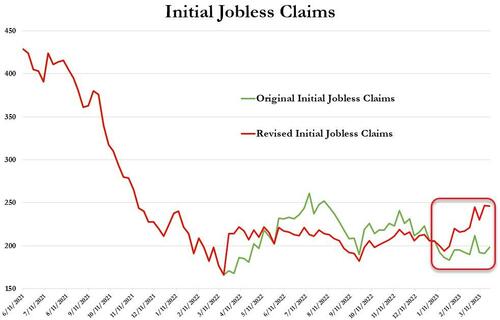 Below we zoom in on just 2023: note the staggering divergence between the previously reported "data" and the latest "post-revision" numbers: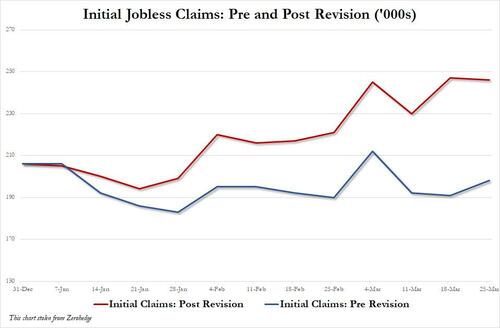 Some context for the recent adjustments
last week claims came in at 246K, revised massively from 198K
the week before that was 247K revised from 191K
the week before that was 230K revised from 192K
...all of which might well have had a significant impact on The Fed's recent decisions.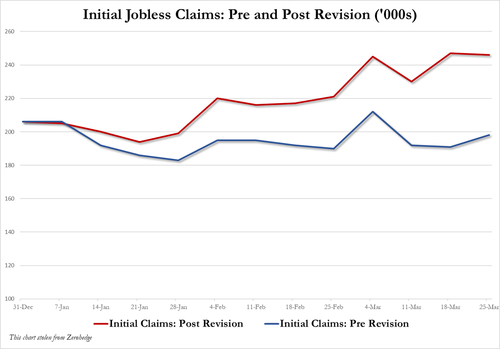 None of this should come as a surprise as we have been mocking the claims data's "seasonal adjustments" for months...
The first bank crisis due to BLS seasonal adjustments

— zerohedge (@zerohedge) March 17, 2023
Under the hood, Michigan, Massachusetts and California saw the biggest jump in jobless claims while Indiana and Tennessee saw the biggest drop in claims...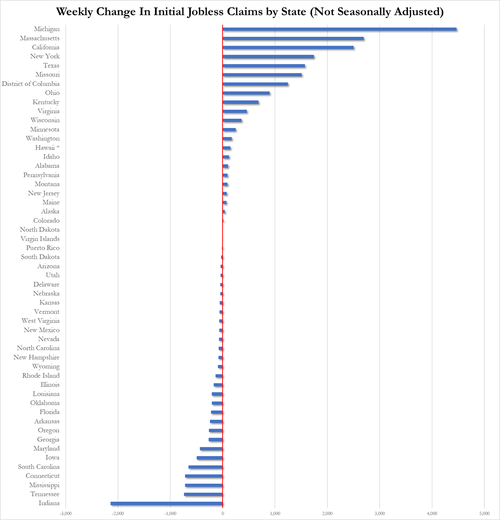 Finally, we note that having decoupled from 'reality' for six months, the labor market is now rapidly catching down to 'soft' survey's sad reflection of the state of the economy...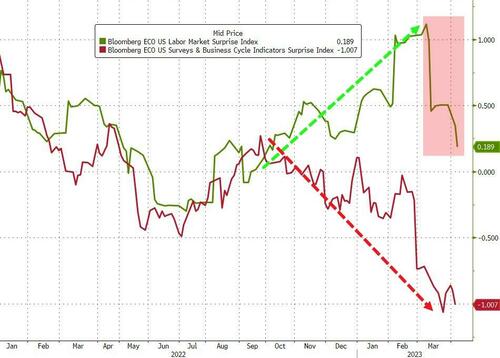 Source: Bloomberg
Will this be the trigger for Powell and his pals to 'pause'?
Loading...