---
LA Elites Spend $150,000 For Protection Dogs As Crime Fears Worsen
Los Angeles' wealthiest residents are purchasing protection dogs that cost as much as a slightly used Mercedes G-Wagon over concerns of out-of-control violent crime and the growing homelessness crisis. 
Los Angeles Times said protection dogs — typically German shepherds, Belgian Malinois, Dobermans, Cane Corso, or a mix of those breeds — are being sold by Delta K9 Academy in North Hollywood for as much as $70,000. Some trainers are selling dogs for upwards of $150,000.  
LA Times spoke with Arteom Bulgadarian, the president of an aerospace manufacturing company, who lives in a multi-million dollar home in Sherman Oaks. He owns several guns and recently had his home wired with surveillance cameras but felt that security layer wasn't enough. 
So Bulgadarian contacted Delta K9 and bought a $70,000 2.5-year-old German shepherd bred as an elite protection dog. First, the dog is a family pet but is highly trained to guard the home. 
"What's the price that you would put for your family's security, especially when that particular house has been burglarized?

"Seventy-thousand dollars — you amortize it over 10 to 15 years, whatever the dog's life is, and it's not that big of a price tag," he said.
The recent 8% surge in violent crime in LA coincides with the tenure of George Gascon, the 'woke' district attorney, who has allegedly emboldened criminals and sparked great anxiety among homeowners, rich and poor. There have been surges in burglaries and property crime, smash-and-grab thefts, and home robberies, leaving some to believe Los Angeles is transforming into a third-world country.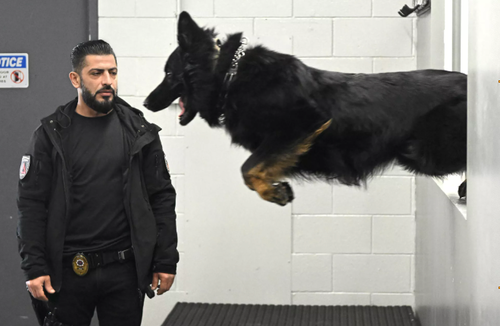 "Every celebrity client, at one time or another, and billionaire has said to me these exact words: 'What about a dog?'" Kris Herzog, owner of the Bodyguard Group of Beverly Hills. Herzog said his firm connects customers with security service firms that sell protection dogs for $55,000. He added, "A dog is always my recommendation if you're not going to have a gun in the house." 
LA Times spoke with luxury real estate agent Branden Williams who said elites in Beverly Hills are buying protection dogs. 
One breeder told the local paper:
"To be very blunt, our dogs that were born in 2022 are being sold at a price of $150,000... It's a coveted product."
Protection dogs are booming as law and order cracks in metro areas. 
Loading...