---
Las Vegas Casinos Are Making Another Round Of Brutal Furloughs And Layoffs
Re-opening? Not so fast.
At least that's the sentiment in sin city, where casinos announced last week there would be another round of furloughs and potential permanent layoffs after the industry remains crippled from the Covid-19 shutdown. 
Three of the strip's major properties, including Wynn Resorts, Circus Circus and the Tropicana all made announcements last week that they would be cutting more staff, according to Fox 5 Las Vegas. This, of course, comes after a first round of layoffs and furloughs that took place after the country first shut down, months ago. 
Wynn has notified some of its workers they would be placed on furlough this week. "Although we retained all of our people while we were closed, we now know how challenged business volumes in Las Vegas are and are staffing to the significantly reduced demand," the casino said.
The company had paid all salaried, hourly and part time workers through May 31, for a total of 75 days of payroll continuance. More than 15,000 employees received payroll coverage, which even included distributed tips. Wynn had invested almost $250 million in payroll expenses during the closure, but can no longer do so.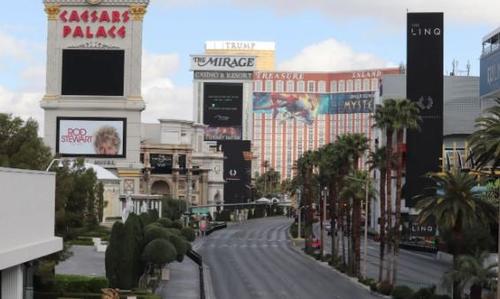 In addition to the layoffs, some of its employees also face pay cuts. Pay reductions ranged from 5% to 20% based on staff members' salaries. For those who make under $75,000, their salary was cut 5%. Furloughed employees will continue to receive health benefits through Oct. 31, the company said.
Circus Circus has said they are laying off some employees due to the loss of business incurred from the pandemic. 252 employees are set to be permanently terminated at the hotel, it said in a letter sent to the Nevada Department of Employment, Training and Rehabilitation.
The hotel's official statement said: "Circus Circus Las Vegas has had to assess and make business decisions in order to effectively operate during these uncertain times. We hope that business volumes will recuperate sufficiently so that most of our employees can get back to work in the near future."
Finally, the Tropicana furloughed a total of 26,000 employees, it said in a statement. A "number" of these employees are expected to return upon re-opening, but some will eventually become permanent layoffs.
"Based on the sudden and unforeseeable events in March, we were forced to furlough 26,000 of our team members in April. At the time, we were hopeful that we'd be able to call the employees back within a couple of months. However, while we have been able to reopen most of our properties on a limited basis, the continued social distancing requirements and uncertain business volumes means our properties will not be able to resume normal operations for the foreseeable future," the casino concluded.