---
Los Angeles County Approves New 'Office Of Food Equity'
Authored by Jill McLaughlin via The Epoch Times,
The Los Angeles County Board of Supervisors unanimously approved a plan this week to create a new Office of Food Equity to address what they call a growing problem of food insecurity in the region.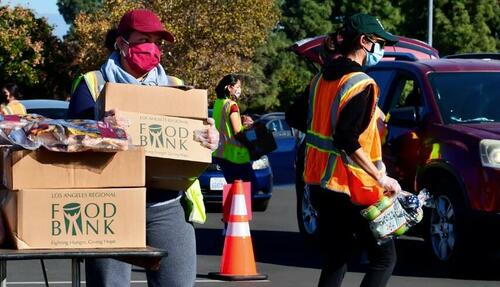 The measure, authored by Supervisors Janice Hahn and Lindsey Horvath, will build on the county's Food Equity Roundtable, created in 2021 to bring together food companies with private and public charity groups. The coalition was funded by the Annenberg, the California Community, and the Weingart foundations.
According to Ms. Hahn, the new office will allow the county to improve the county's food system.
"By creating the first-ever LA County Office of Food Equity, we can build on the work we already started with our partners, modernize our food system, and work toward a future where everyone in LA County can get the healthy food they need," she said in a statement Nov. 7.
The roundtable, a two-year pilot program, integrates the county's solutions for chronic food insecurity based on the principle that "just and equitable access to healthy and nutritious food is a human right."
In a December 2022 report, the program compiled a list of recommendations to improve food access—such as addressing structural racism, ageism, and overall inequity—and identified populations who organizers say are disproportionately more vulnerable to food insecurity, including immigrant and transgender communities.
California residents living in poverty or who have lost jobs are already eligible for the federal Supplemental Nutrition Assistance Program (SNAP), which provides monthly funds to buy food. In 2022, more than 4.6 million California residents—or about 1 in 8 people—received SNAP benefits, according to a report by the Center on Budget and Policy Priorities, a nonpartisan research and policy institute.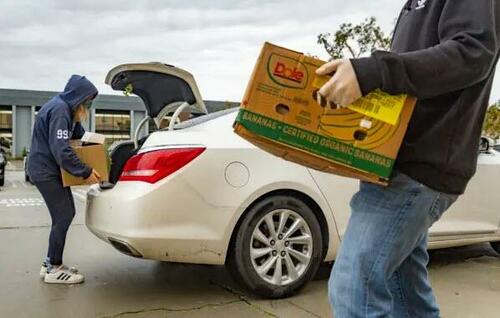 Volunteers at Laguna Niguel Presbyterian work with San Clemente-based Family Assistance Ministries in handing out food donations to a line of cars in Laguna Niguel, Calif., on Dec. 23, 2021. (John Fredricks/The Epoch Times)
The state received nearly $14.5 billion in such benefits in 2022—about 142 percent more than in 2019.
However, food insecurity was much higher last year in Los Angeles County compared to the rest of the United States, according to the latest county and federal statistics.
In Los Angeles County, about 24 percent of households—nearly 1 in 4—were food insecure as of July 2022, statistics show.
"We know the need has only grown, particularly for communities of color who lack access to fresh food," Ms. Horvath said in the Nov. 7 statement. "The Office of Food Equity will build on this successful public-private partnership model to continue to provide nutritious food to residents who are counting on us."
Federal statistics show the number of households in the U.S. that were food insecure grew substantially in 2022 to 12.8 percent, or 17 million households. That meant 3.5 million more households were lacking food compared to the year before, when 10.2 percent reported food insecurity, according to the U.S. Department of Agriculture.
Food insecurity in the U.S. declined in 2018, decreasing for the first time to 2007 levels, the USDA reported. Only 11 percent of U.S. households were food insecure in 2018, a decline from 11.8 in 2017, according to the agency.
Cinny Kennard, executive director of the Annenberg Foundation, said she hoped the new office would ensure all people get the food they need.
"This motion approved by the Board of Supervisors will ensure the new office of Food Equity is staffed and supported so that we can together begin to work to get all people much needed quality, affordable, and healthy food," she said in the statement.
Ms. Kennard is also a former media executive and co-chair of the food roundtable.
Loading...