---
Los Angeles Extends Rent Protections After COVID-Era Moratoriums Set To Expire
Authored by Jamie Joseph via The Epoch Times,
The Los Angeles City Council voted unanimously Jan. 20 to make some COVID-era protections for renters permanent, less than two weeks before they were set to expire.
"Today was a huge victory," recently-elected Councilmember Katy Yaroslavsky posted to Twitter after the vote.

 "The Los Angeles City Council just unanimously adopted several common sense tenant protections that will protect thousands of Angelenos facing eviction, and help make our work around homelessness and reducing poverty that much easier."
The council approved moratoriums for renters - including no-fault evictions and nonpayments - beginning at the height of the pandemic and were to expire Feb. 1.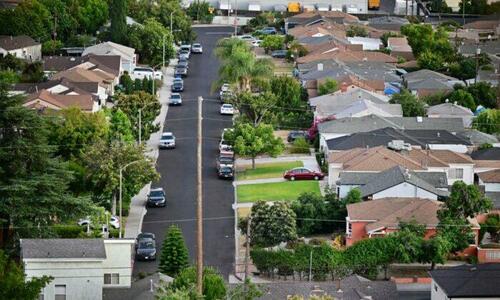 Previously, tenants eligible for such protection were those who had experienced a loss of income due to COVID, including reduced work hours, and who needed financial assistance with childcare and medical expenses.
The new rules will give protections for renters living in non-rent controlled units—meaning those built after 1978—and include preventing landlords from evicting tenants unless there is unpaid rent or evidence of breaking a lease's rules. That "just cause" policy provision—which states that a landlord must have a valid reason, such as a violation of a lease, for evicting a tenant—goes into effect after six months or when a lease is expired, whichever comes first.
But some, including small-scale landlords, are wondering how they can keep covering property, utility costs, and mortgages without rent paid by tenants.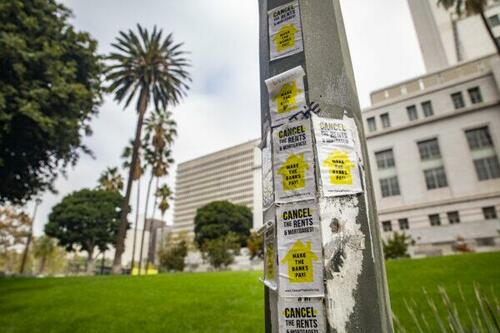 Stickers for rent cancelations are pasted to a light fixture in front of Los Angeles City Hall on Nov. 8, 2021. (John Fredricks/The Epoch Times)
The Coalition of Small Rental Property Owners founding member Diane Robertson told The Epoch Times the council's vote has "additional handcuffs" on small mom-and-pop landlords.
"There are so many of us who are strongly considering leaving the housing industry in Los Angeles … and to be frank, if that happens, properties are going to be sold to corporate owners more than likely and in the long run, that is not going to bode well for renters," she said.
Property owners in rent-controlled areas, Robertson said, also struggle to keep up with rising inflation costs.
"Prices for everything needed to maintain our properties have increased," Robertson said.

"Plumbers, electricians, gardeners—these things are essential for us to provide housing that tenants want to live in."
Most renters in Los Angeles already have "just cause" protections, but the council's vote expanded the number of households covered.
The new provision also prevents landlords until February 2024 from evicting tenants who have prohibited pets and additional residents not listed on their lease.
Despite their support, Councilmembers Traci Park, Monica Rodriguez, and John Lee expressed concern over the new provisions, arguing small landlords will need to have a fair pay-back program for unpaid rent.
"I'd like to dispel the notion heard so often that this council has done nothing to help tenants throughout this pandemic. In my opinion, that could not be further from the truth," Lee said during the meeting.

"… [But] we can also set up a timeline for rental repayment that is fair and manageable," for landlords and tenants alike.
In response, the council added an amendment for when landlords must receive rent that went unpaid during the pandemic.
For such incurred between March 1, 2020, and Sept. 30, 2021, tenants will have until Aug. 1 to pay. For that between Oct. 1, 2021, and Jan. 31, 2023, until Feb. 1, 2024.
The council additionally voted for the city administrator to provide recommendations within 30 days for a relief-assistance program for small mom-and-pop landlords.
Loading...