---
Low Inventories, Chip Shortages Spark Unprecedented Spike In Used-Car Prices In March
US used car/truck prices are re-accelerating in 2021 - at a stunning rate - after a brief pause from October to December.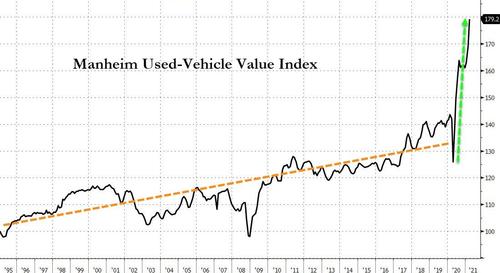 Source: Bloomberg
From 1995 to the end of 2019, used-vehicle prices have risen at around a 1.5% to 2.0% per annum (admittedly with some pops and drops along the way). The last year has seen prices rising at around 15% per annum... and March's 5.9% spike MoM sent the year-over-year change in prices up a stunning 26.3%.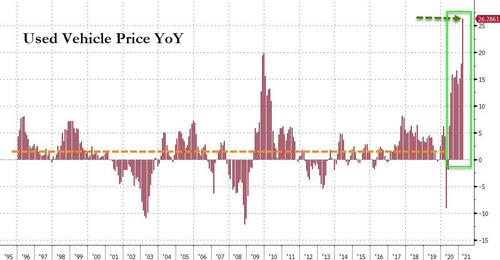 Source: Bloomberg
As we detailed previously, the current semiconductor shortage at automotive assembly plants and very light dealer inventories, especially in pickup trucks, is driving marginal demand here.
While many market observers suggest this pricing rebound should be viewed as a short-term phenomenon, WardsAuto.com notes that the trend has stubbornly continued.
And while low inventories have meant transaction volumes are admittedly much lower than they have been in the years leading up to 2020, this is another example of the importance of the used-vehicle segment in supporting the automotive industry's recovery in the wake of a tumultuous pandemic year.
The low-inventory scenario on the new-vehicle side of the market has been, and will continue to be, particularly tough, limiting the mid- to-long-term outlook for used-vehicle supply.
There are several reasons for this, not least of which is the fact that the industry is facing a major microchip shortage. The high-tech offerings of the automotive industry have put the sector into fierce competition for critical components with consumer electronics and other segments of the economy that require chipset technologies.
Jessica Caldwell, Edmunds' executive director of insights, claims that "the chipset shortage has snowballed into a bigger crisis for the automotive industry."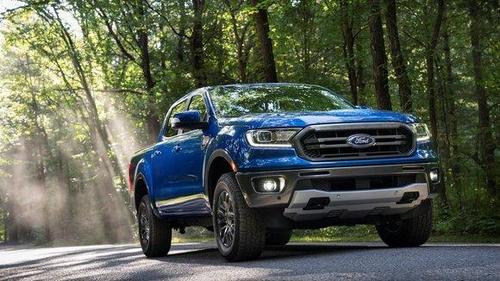 As DataTrekResearch's Nick Colas observed from his days covering the auto industry: designing, producing and supplying anything for a passenger car or truck is unlike any other industry you can imagine.
First, it takes at least 3 years (an eon in tech-land) to design a vehicle, and these designs are frozen a year or longer before the vehicle is available for sale.

Second, OEMs are cheap because the industry is so competitive.

Third, anything they put in a vehicle has to have a very low fail rate, which means they will favor older proven technology over newer products.

Lastly, governments around the world regulate cars and trucks across a wide spectrum of attributes ranging from safety to fuel economy.
All this is important because there's so much investor and tech industry enthusiasm about automotive as a growth area. Fair enough – between government mandates for electric vehicles and a lot of capital flowing to autonomous vehicle hardware and software something interesting will develop. But we're not designing the next cool smartphone handset with a 5 year (at most) useful life. EVs/AVs will have to be as robust and safe as what's on the market now to succeed. And the auto industry will have to integrate into the world's tech hardware manufacturing infrastructure better – much better – than it currently is.
We'll get there, to be sure. But it won't be a fast move. Nothing in automotive ever is, unless it's a fully loaded 2-year-old used pickup moving down the auction line next week.