---
New Home Sales & Prices Plunged In June As Pulte Admits Order Cancellations Are Soaring
Amid a plunge in homebuilder confidence, record low affordability, tumbling single-family starts and permits, and multi-decade lows in mortgage applications, it is no surprise that analysts expected a 5.9% MoM plunge in new home sales in June (especially after the surprise 10.7% MoM panic-buying surge in May). The consensus was right in direction but off in magnitude as new home sales plunged 8.1% MoM in June and the 10.7% surge in May was revised down to just +6.3% MoM...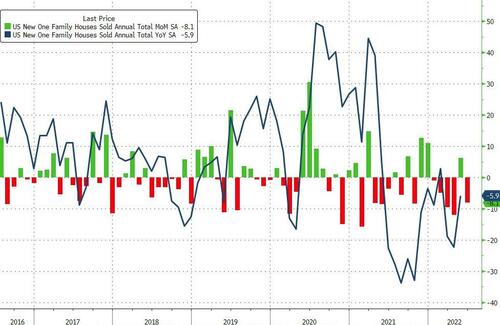 Source: Bloomberg
New Home Sales have fallen for 5 of the last 6 months and the last few months have seen a one-way street of downwards revisions...
The New Home Sales SAAR has tumbled to its lowest since the nadir of the COVID lockdowns in April 2020...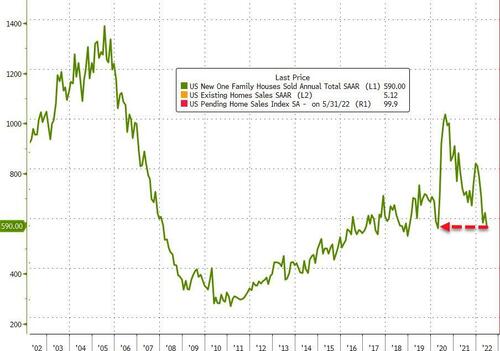 Source: Bloomberg
A potential silver lining is that inventory is finally on the rise with 9.3 months of supply seen in June, up from 8.4 in the prior month.
And the best news of all - the median new home price tumbled 9.5% MoM to $402,400...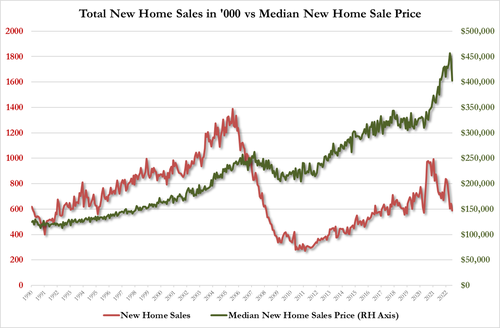 This was the biggest MoM drop in the median new home price since Sept 2014...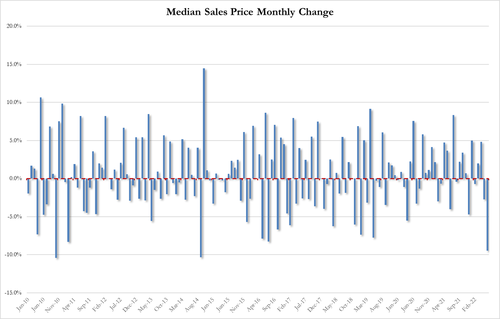 With median home price gains slowing dramatically YoY...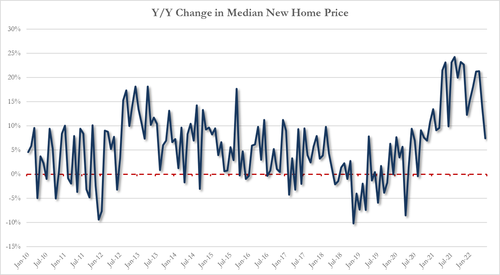 This new home sales print comes on the day that Pulte Homes admits buyers have hit a wall and is "dialling back" its spec-home-starts, noting that the homebuilder's cancellation rate more than doubled to 15% in Q2 from 7% in the year-ago quarter, as soaring home prices and mortgage rates hinder affordability.
"The recent 200-basis point increase in mortgage rates has impacted affordability, but we continue to believe the desire for homeownership is high and the long-term outlook for housing remains positive," said CEO and President Ryan Marshall.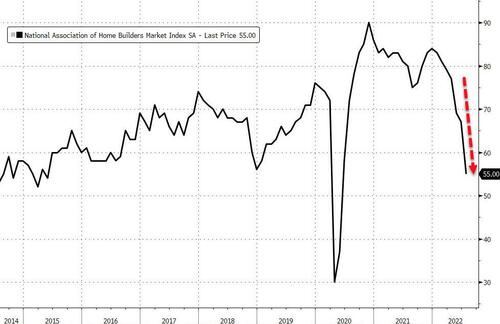 Source: Bloomberg
Most notably perhaps was Marshall's admission that the uptick in cancellations has been in the last 30-60 days, perhaps mirroring the plunge in homebuilder confidence (and Walmart) as the 'strong American consumer' appears to have pulled back into its shell.
Loading...