---
New Home Sales Unexpectedly 'Rose' In February, Median Price Rebounds
After surging far more than expected in December and January (and beaten expectations in each of the last six months), new home sales were expected to slide in February (despite the unexpected jump in existing home sales as mortgage rates took a pause from their blast off higher). However, like existing home sales, new home sales rose 1.1% MoM (-3.1% exp). This is the seventh beat in a row, but only because January's +7.2% MoM spike was revised dramatically lower to a mere +1.8% MoM... if that January level had held this would have been a 4.5% MoM drop...
Source: Bloomberg
Year-over-year, new home sales remain down 19%, but on a SAAR basis are back near their highest since last April...
Source: Bloomberg
Sales rose in the West and South, the two largest regions by purchases. The number of homes sold in the Northeast plunged to the lowest since June.
The median home price rose from $426.5K (lowest since Sept Dec 21) to $438.2K...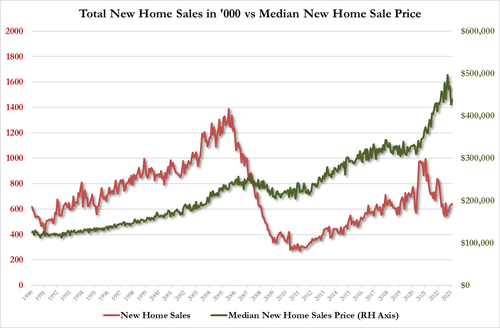 Supply continues to contract (some might say 'normalize'). There were 436,000 new homes for sale as of the end of last month, the lowest since April. That represents 8.2 months of supply at the current sales rate. ...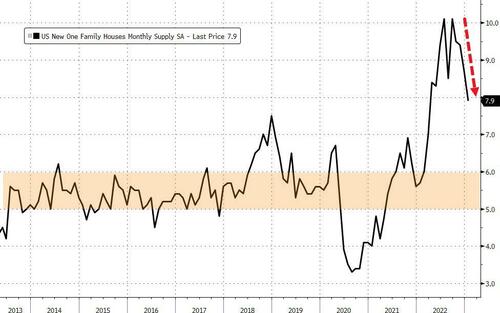 Source: Bloomberg
Interestingly, the number of homes sold, but not yet started, continues to rise, surging to 149K, from 108K, the highest since March 2022...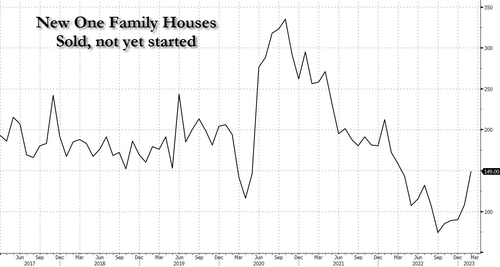 Source: Bloomberg
Of course, the problem is, mortgage rates have resurged back above 7.00% since this data...
Source: Bloomberg
Resurgent home sales (and prices) is not what Powell wants to see - don't expect mortgage rates to save any homebuyers anytime soon (especially as banks tighten lending standards amid a liquidity/solvency crisis).
Loading...