---
"The Next Bernie Madoff": Baltimore Man Sentenced To 22 Years For Maryland's Largest-Ever Ponzi Scheme
Readers may recall that we have followed the federal government's case against Kevin Merrill (see: here & here), a Baltimore resident indicted by the SEC and DoJ in late 2018 for operating the largest-ever Ponzi scheme in Maryland's history. 
Merrill swindled family offices and investors around the country for more than $345 million. The scheme worked by buying "consumer debt portfolios," tranches of credit card debt, car loans, and student loans. However, very little of that was done, instead, he shifted the money from new investors to old investors. Here's how the Ponzi worked: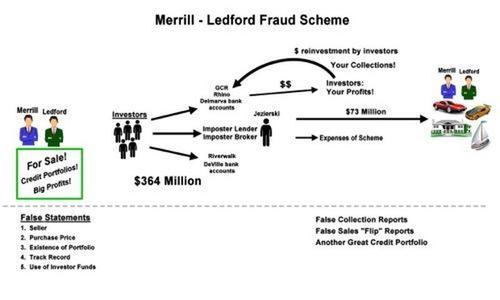 Merrill has been in jail for at least a year - the house of cards crashed down last week when a federal judge sentenced him to 22 years in prison for defrauding investors, mainly hedge funds and family offices. 
"You were on your way to becoming the next Bernie Madoff," U.S. District Judge Richard Bennett told Merrill, who was quoted by The Baltimore Sun. "Another 11 years, and you would have been."
 "The level of obscene greed is absolutely astonishing... How much is enough?," Bennett said. 
The sentencing hearing last Thursday (Oct. 8) was at the U.S. District Court in Baltimore brought an end to the biggest Ponzi scheme in Maryland history. 
At the time of the sentencing, Merrill was crying as he spoke:
"Your honor, I ask for your mercy and compassion," he said. "People trusted me ... I'll carry that anguish and guilt with me forever."
The judge ordered him to pay back the $189 million in lost money - an impossible task, the judge noted.
"You had the audacity - the audacity! - to go in and talk to the FBI, and think you are going to talk your way out of it."
The Sun points out smaller investors spoke of their "financial ruins" at the sentencing hearing:
A 74-year-old retiree in Baton Rouge, Louisiana, spoke of losing $2 million. A 36-year-old from South Carolina said he and his wife lost $50,000, a majority of their savings. Merrill's longtime friend, David Price, said he took out home equity loans to invest $70,000 and lost it all.

John Paradise, of New Jersey, told the court he invested $250,000, his savings and his wife's inheritance. The money was intended to send his three daughters to college. He told the court of his crushing anxiety and worry.

"I was a basket case yesterday — a basket case! My daughter couldn't make it to school and know what I had for her? Nothing!" he said. "You stole from me! You lied to me!"

Merrill bowed his head. Paradise looked right at him.

"My heart, my soul, my conscience is clear," Paradise said. "I'm going to flush this out ... You're not going to steal that part of me."
As for the hedge funds and family offices that lost out in the Ponzi, well, they'll be fine; it's the mom and pop investors who have been financially devastated.