---
Over 8 Million Jobs Below Pre-COVID Levels: ADP Employment Data Disappoints In April
After a notable disappointment in the last two months, ADP's National Employment report was expected to print a very positive 850k additions in April but again it disappointed with a 'mere' 742k jobs added (though March additions were revised higher from +517k to +565k).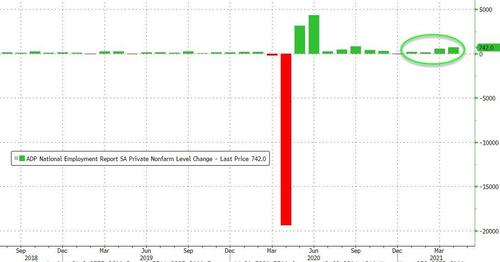 Source: Bloomberg
That is the fourth straight month of gains (and most since September).
The largest businesses overall added the most jobs with only the Information sector losing jobs in April...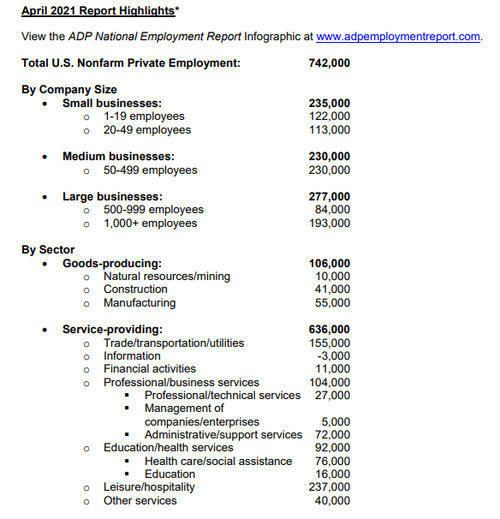 Once again, Services job gains massively outpace goods-producing jobs.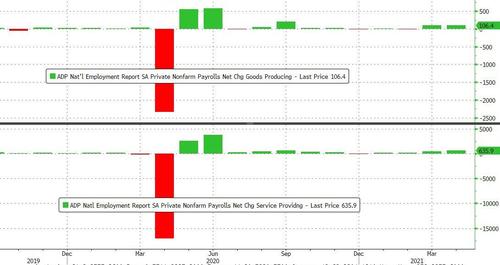 Source: Bloomberg
Leisure & Hospitality services rose the most...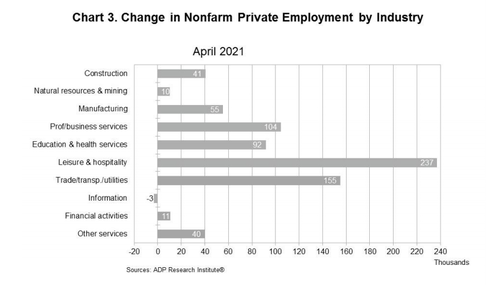 "The labor market continues an upward trend of acceleration and growth, posting the strongest reading since September 2020," said Nela Richardson, chief economist, ADP.

"Service providers have the most to gain as the economy reopens, recovers and resumes normal activities and are leading job growth in April. While payrolls are still more than 8 million jobs short of pre-COVID-19 levels, job gains have totaled 1.3 million in the last two months after adding only about 1 million jobs over the course of the previous five months."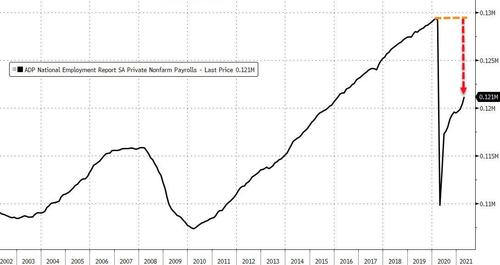 Source: Bloomberg
Finally, ahead of Friday, we note that ADP has serially under-predicted BLS payrolls data with a big miss last month...
Source: Bloomberg
So will Friday show a one-million-job-plus gain?