---
Pizza Hut's Largest Franchisee Is On The Brink Of Bankruptcy
NPC International, better known as Pizza Hut's largest franchisee, is on the brink of bankruptcy.
The company is reportedly exploring restructuring options for its more than 1,200 Pizza Hut locations and 400 Wendy's locations. The franchise secured $35 million in loans earlier this year to help bolster its liquidity, but also recently defaulted on $800 million of its $1 billion in debt, according to Restaurant Dive.
NPC reportedly skipped loan payments and entered into a forebearance agreement with lenders to allow time to weigh options for restructuring. The company is working with advisers at Greenhill & Co., AlixPartners LLP and Eldridge Industries LLC to weigh its restructuring options. 
A bankruptcy could help the company re-negotiate agreements with landlords and the company is reportedly still weighing options that will keep it out of court. 
The company's woes are partially attributable to lack of delivery, which is a consumer trend that other fast food companies have been able to embrace with services like Uber Eats and DoorDash. The company has also experienced headwinds from rising food and labor costs - and domestic same store sales that slipped 2% during Q4.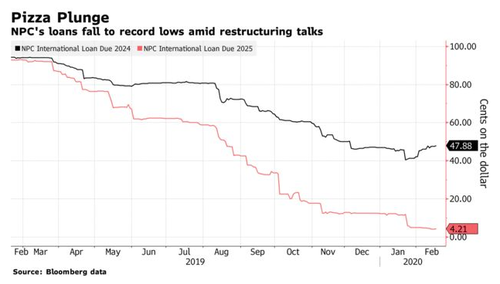 Chris Tuner, Yum Brands CFO, said last week: "There is potential for choppiness in near-term results of Pizza Hut U.S., primarily related to our largest franchisee."
The chain has tried to adapt to other ideas, like self-service pickup cubbies and in-store kiosks. Pizza Hut is considering rolling these ideas out to all stores, pending the results of a pilot test in two Texas restaurants. Meanwhile, Yum Brands has leveraged a delivery partnership with Grubhub to try and compete with other delivery names and competitors like Domino's. 
Pizza Hut announced last year it could temporarily close up to 500 underperforming restaurants for remodeling.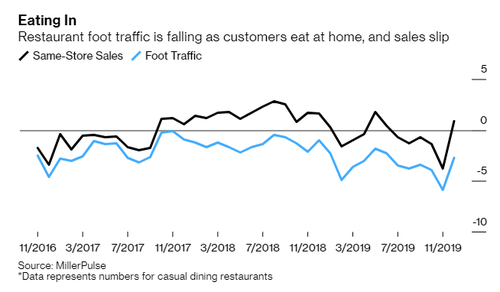 Recall, just weeks ago, we reported about the epidemic of small restaurants going bankrupt due to lack of traffic in areas where they are situated. 
In that piece, that noted that names like Bar Louie and American Blue Ribbon Holdings, which owns Village Inn and Bakers Square, both filed for bankruptcy earlier this month and that both both cited lower foot traffic in the U.S. as the reason for their downfall. 
Bar Louie's Chief Restructuring Officer Howard Meitiner said at the time: "This inconsistent brand experience, coupled with increased competition and the general decline in customer traffic visiting traditional shopping locations and malls, resulted in less traffic at the company's locations proximate to shopping locations and malls."