---
Prices Will Keep Rising Despite 'Peak Inflation' Chatter, Warns Unilever CEO
Authored by Katabella Roberts via The Epoch Times,
Unilever CEO Alan Jope has warned of the possibility of persistently high prices in the near future even if inflation levels out, adding that soaring costs have not yet reached their peak.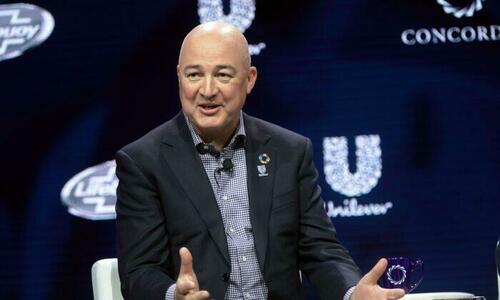 Jope made the comments while speaking to CNBC at the World Economic Forum in Davos, Switzerland, on Jan. 17, where the businessman was asked if he sees inflation or prices moderating in the near future.
"We know for sure there's more inflationary pressure coming through in our input costs," he said of Unilver.

"We might be, at the moment, around peak inflation, but probably not peak prices," he said.
Jope added that while there's further pricing expected to come through, "the rate of price increases is probably peaking around now."
Speaking of his own company—which owns brands including Ben & Jerry's, Dove, Magnum, and Wall's—Jope said around 75 percent of the cost pressures the company felt in 2022 were passed on in pricing.
Despite this, the CEO said that customers have been "very resilient" to the higher costs of goods in general and have not drastically changed their habits.
He noted, however, that there may be a change in general consumer behavior owing to decreased household savings prompted by higher winter energy costs.
"We do see the prospect of higher volume elasticity as winter energy costs hit, as households' savings levels come down and that buffer goes away and as prices continue to rise," he said.
Inflation Slows in December
The pace of inflation slowed slightly in December, with the Consumer Price Index (CPI) coming in at 6.5 percent year-over-year, according to data from the Department of Labor (pdf), marking the slowest annual rate in over a year.
Meanwhile, the month-over-month pace of inflation dropped by 0.1 percent. Reductions in the prices of fuel oils and gasoline were the main reason behind the declines, however energy costs are particularly volatile and likely to suddenly rise.
Despite indicating a downward trend in inflation, and although some economists argue that real CPI is much higher, the Federal Reserve is not expected to pull back from its monetary tightening policy any time in the near future after months of relentlessly raising interest rates.
Market experts widely anticipate a 0.25 percentage point hike at the Fed's next meeting at the beginning of February.
Earlier this month, Peter Schiff, chief economist and global strategist of Euro Pacific Asset Management, told The Epoch Times that the Central Bank would be "throwing gasoline on the fire," if they were to suddenly stop raising interest rates.
"High inflation gets even higher, and in that environment, I don't see financial assets as a group doing well," Schiff said.
The investor also said he believes that the central bank is in part to blame for soaring prices as they have distorted the value of money and "turned the market into a casino."
"It's really helped undermine the productivity of the American economy, which is one of the reasons we have huge trade deficits," he said.
However, Citigroup CEO Jane Fraser told CNBC on Tuesday that the Federal Reserve could slow rate hikes in late spring or early summer.
On Jan. 13, Fraser said Citigroup, which reported a 21 percent fall in quarterly profit earlier this month, anticipates a mild recession in the United States in the second part of the year.
Loading...