---
Reality Check Incoming? Job Gains Appear To Be Slowing Or Reversing In July
After two straight months of better than expected - yet still depression-era-style - job gains, it's looking like July could be a reality check for the "V-shaped recovery" crowd. 
Gains look as though they are going to "slow sharply or even reverse" this month, according to Bloomberg.
These predictions come after places like California have once again shuttered their economies, closing dining and shutting down all businesses in hardest hit counties. Washington has followed suit, stopping its relaxation of restrictions in the state for the next 14 days.
According to job listings on Glassdoor.com, openings have fallen 5.5% over the last two weeks, inclusive of all 50 states - not just the ones that have shut down. Of course, this could also be an indication that jobs are filling up - but is more likely a signal that companies are pausing their re-hiring efforts.
The jobs report is due August 7th and will include whether or not respondents have a job this week. Payroll counts are inclusive of those who received a check for the pay period including July 12th.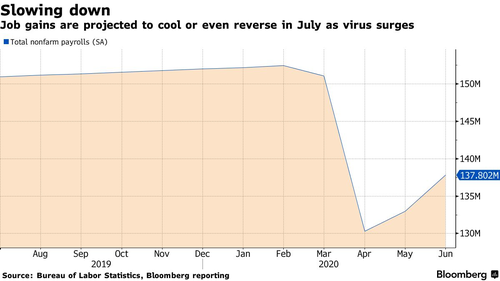 The timing for a plunge in job gains could be ugly. There's just 14 days left for the $600 per week in extra unemployment benefits the government is offering, as we noted in a recent piece. 
Morgan Stanley is predicting a "meaningful chance" of July's payrolls dropping based on the nation's economic trends. Mark Zandi of Moody's Analytics has predicted a gain of less than 1 million, inclusive of a 200,000 boost from temporary jobs related to the U.S. census. Fed President James Bullard also said this week that he is predicting smaller job gains in July. He predicts that if the pandemic eventually gets under control. however, job losses should fall "rapidly". 
Yelena Shulyatyeva of Bloomberg Economics said: "We could see some preliminary impacts from new shutdowns in the July figures. My concern is what will happen going forward into the end of the year, into 2021. Will there be enough jobs to create enough personal income so that it can support personal spending growth?"
Russell Price, senior economist at Ameriprise Financial, commented: "The developments since the June report have obviously not been very encouraging. Leisure and hospitality jobs, which were initially rebounding well after collapsing at the pandemic's outset, will in particular see their recovery further delayed."
Morgan Stanley economist Robert Rosener concluded: "We will see volatility in the data along the way. In this case, we do think we might see some of that volatility showing up near-term on the labor market front."