---
Homebuilder Expectations For Future Sales Just Surged By The Most Ever (Ex-COVID)
The National Association of Homebuilders sentiment survey roared higher in February, from 35 to 42 (far better than the 37 expected) with all three factors surging, led by 'hope' - future sales expectations...
Source: Bloomberg
In fact, ex-COVID, this is the biggest MoM rise in the future sales expectations index... ever!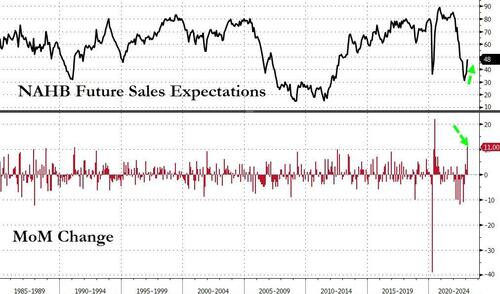 Source: Bloomberg
"Even as the Federal Reserve continues to tighten monetary policy conditions, forecasts indicate that the housing market has passed peak mortgage rates for this cycle," Robert Dietz, NAHB chief economist, said in a statement.

"While we expect ongoing volatility for mortgage rates and housing costs, the building market should be able to achieve stability in the coming months, followed by a rebound back to trend home construction levels later in 2023 and the beginning of 2024," he said.
However, separate data Wednesday showed borrowing costs rebounded sharply last week, causing a pullback in applications for home loans and suggesting any rebound in housing demand will be bumpy. The Mortgage Bankers Association said the contract rate on a 30-year fixed mortgage jumped 21 basis points, the most in four months, to 6.39%. Home-purchase applications slid 5.5%.
Bear in mind, however, that futures are signaling a resurgence in home prices...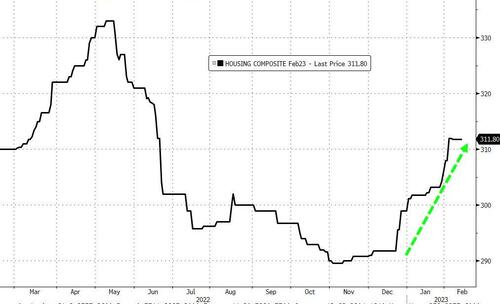 Sadly for the homebuilders, homebuyers remain far less sanguine...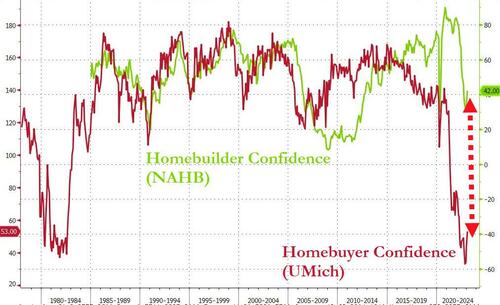 Source: Bloomberg
One final reminder. As Upton Sinclair reportedly said: "it is difficult to get a man to understand something, when his salary depends on his not understanding it."
Have you ever met a realtor/homebuilder who didn't think it was a great time to buy a home?
Loading...