---
Regional Fed Surveys Signal Slump, Buck PMI Bounce
The Philly Fed's Services index was in contractionary territory for the 9th month of the last 10 in May (-16.0), but very slightly higher from April's two-year lows.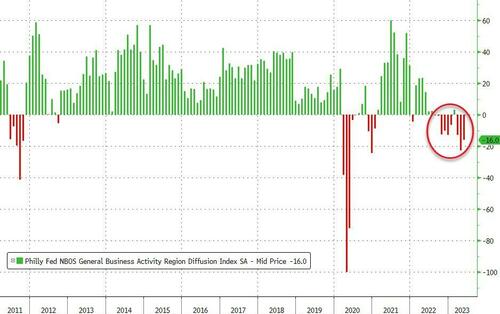 Source: Bloomberg
More problematically, the survey showed increases in prices for inputs and the firms' own goods and services.
The prices paid index increased 5 points to 40.3 in May. Almost 45 percent of the firms reported increases in input prices, while 4 percent reported decreases; 39 percent reported stable prices. Regarding prices for the firms' own goods and services, the prices received index edged up 1 point to 21.6 this month.
But it gets worse, in this month's special questions, firms were asked to forecast the changes in prices of their own products and for U.S. consumers over the next four quarters. Regarding their own prices, the firms' median forecast was for an increase of 4.0 percent, up from 3.5 percent when the question was last asked in February.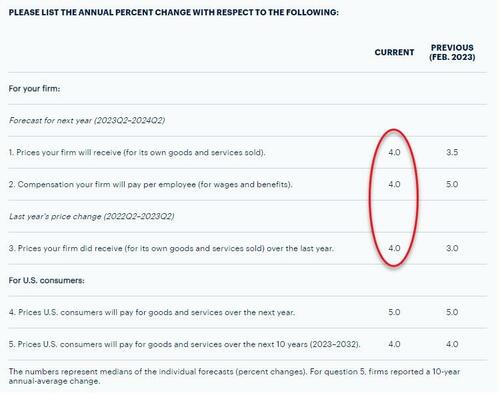 The Richmond Fed's Manufacturing survey was even worse, tumbling to -15 from, -10 (far worse than the -8 small rebound expected)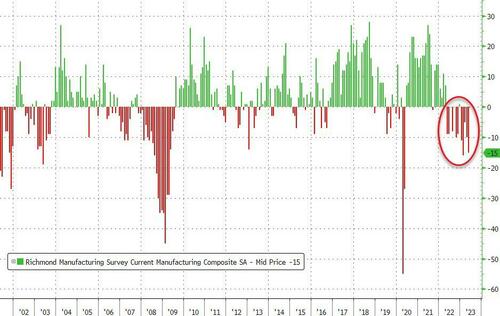 Source: Bloomberg
Two of its three component indexes—shipments and new orders—declined. The shipments index dropped from -7 in April to -13 in May, while the new orders index fell from -20 to -29. The employment index, however, rose slightly from 0 in April to 5 in May.
So despite the headline PMIs, at the regional level, business sentiment remains anything but robust.
Loading...