---
Retail Credit Card APR Hits Record 28.93% Average
In September we noted that the average credit card APR had hit 22%, while the level of overall credit card debt continues to rise (updated chart below). Personal savings is also abysmal.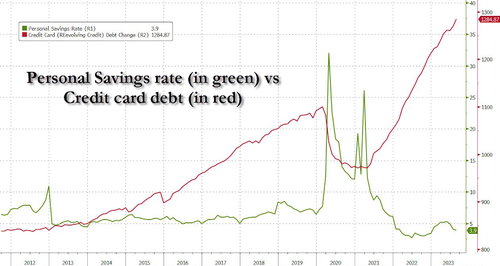 Now, a new report from Bankrate reveals that the average retail credit card APR (as opposed to overall credit card rates) just hit a new record high of 28.93%, up from 26.72% in 2022 and 24.35% in 2021, according to their annual Retail Cards Study published on Monday.
The highest retail credit card APRs belong to the Academy Sports + Outdoors Credit Card, the Burlington Credit Card, the Good Sam Rewards Credit Card and the Michaels Credit Card, which 'boast' an absurd 33.24%.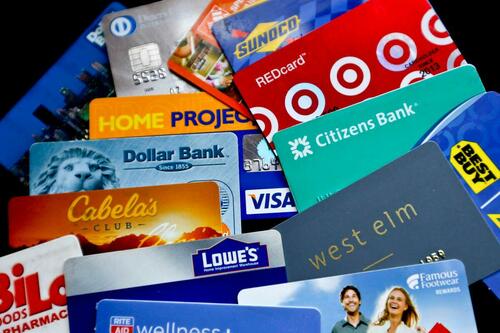 That said, while the Fed reported average credit card APR at 22% in Q3, a new record high, Bankrate's report has the national average at 20.71%.
As Fox Business further notes;
16 retail credit cards charge 32.24% to all cardholders who carry balances, including those from Jared, Kay Jewelers, Zales, owned by Signet Jewelers, QVC, Walgreens, Ross, Victoria's Secret, T.J. Maxx and Wayfair
According to Bankrate senior industry anallyst Ted Rossman, the average store-only credit card charges 30.24%.
Rossman suggests that "If you can pay in full and avoid interest, a retail credit card could make sense if you're loyal to the store," otherwise, pass.
For example, Rossman says, Amazon, Target, Best Buy and others give 5% cash back when you use their credit card at their store. "That can add up for a loyal shopper, and it's likely more than they would earn on a general-purpose card," he adds.

According to Rossman, another useful instance could be to get a sizable discount on your first purchase. "That's a common sign-up bonus among store cards," he says. "I have a coworker who saved 10% off new appliances by following that approach."

Experts caution you to think about your decision to open a store card, and only do so if you plan to pay off the balance in full and on time. "Don't make a bad decision in the heat of the moment that sets you up for 30%-plus interest rates," Rossman warns. -Fox Business
People have become swamped in credit card debt for a variety of reasons, while the resumption of student debt payments has compounded the problem for many Americans whose finances changed during the pandemic and can no longer afford to make ends meet.
"Lots of people are using credit cards to finance daily essentials such as groceries and gas. Unfortunately, credit card debt is easy to get into and hard to get out of," Rossman notes.
This is fine...
Loading...