---
Rigged? Billionaire Wealth Surges As Working-Poor Struggle 
The virus pandemic has exposed the rigged economic system we all knew about, where mega-corporations and their billionaire owners, a small group of elites, were handed trillions of dollars of stimulus money by their respective central banks and governments.
Stimulus money was then plowed into financial markets, driving up stock and other asset prices from the depths of the crash in mid-March, which helped push total billionaire wealth to new record highs. 
The "Riding the storm" study, published on Wednesday by UBS and PwC, found that between April and July of this year, global billionaire wealth soared to $10.2 trillion, up from $8 trillion at the beginning of April. This increase reflected a 27.5% surge in total billionaire wealth over the three months.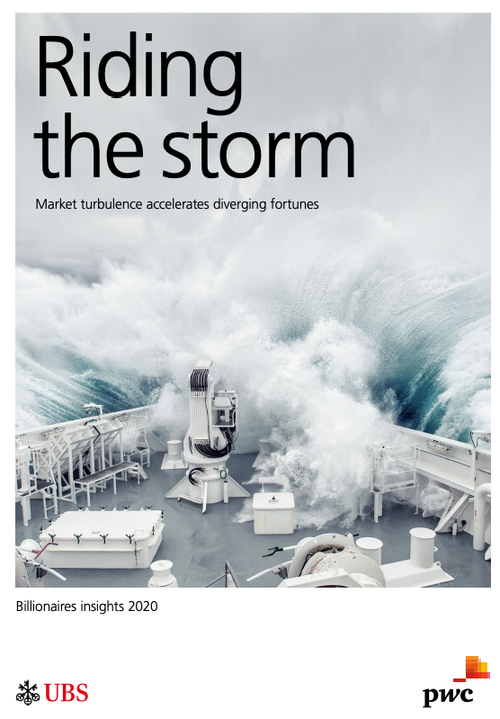 As the Federal Reserve and other major central banks rapidly expanded their balance sheets, it becomes easily discernible that aggressive monetary policy benefited billionaires. During the three months, the number of billionaires worldwide hit a new record high of 2,189, surpassing the 2017 peak of 2,158.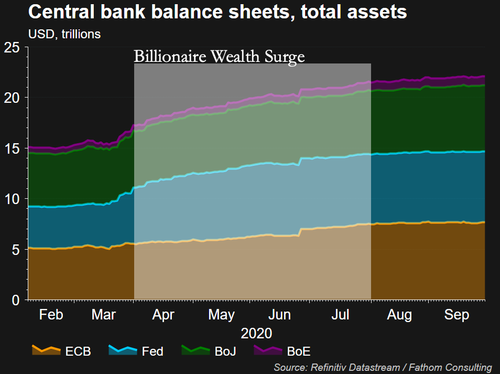 The study found diverging fortunes between billionaires, while all billionaires across all industries saw rising wealth, ones based in technology and healthcare saw the largest increase in new wealth. Most of the wealth creation occurred during coronavirus lockdowns, while working-poor folks were confined to their homes.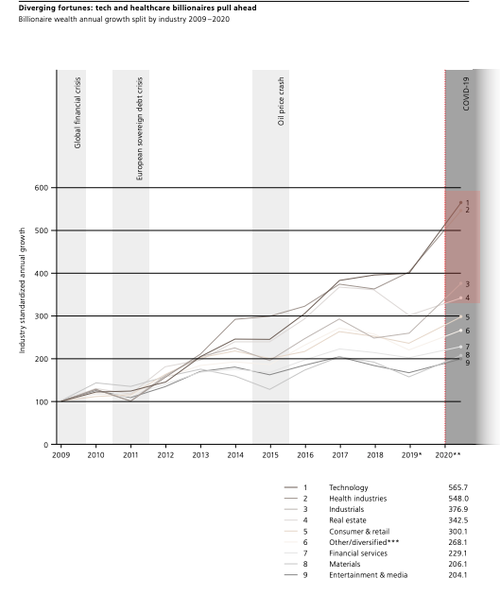 If it's monetary or fiscal, the transmission of stimulus to the world's wealthiest is a tragedy in itself. The rich got richer, and the working-poor got poorer. In some countries, such as the US, tens of millions of households were handed lousy $1,200 checks, with many folks still without jobs, depleted emergency savings, food insecurity issues, and millions at risk of eviction. 
"The economic crisis we are suffering because of the pandemic has been fuelled by a rigged economic model. The world's largest corporations are making billions at the expense of low wage workers and funneling profits to shareholders and billionaires – a small group of largely white men in rich nations," Oxfam International's executive director Jose María (Chema) Vera told Al Jazeera.
The flawed economic system has been exposed for the world to see. The result, well, it's a "K-shaped" recovery, outlines how wealthy elites greatly benefited from stimulus but left the working-poor and small businesses with no recovery. The "K" recovery is the result of socialism and central planning. The coming blowback of such a reckless policy by governments and central banks enriching billionaires will continue to widen the wealth gap that results in continued social unrest.