---
Savings Rate Plunges As Spending Soars; Inflation Slows As Govt Wage Growth Nears Record High
One of The Fed's favorite inflation indicators - Core PCE Deflator - slowed to 3.7% YoY in September (its lowest since May 2021). Headline PCE was flat at 3.4% YoY. Both were in line with expectations...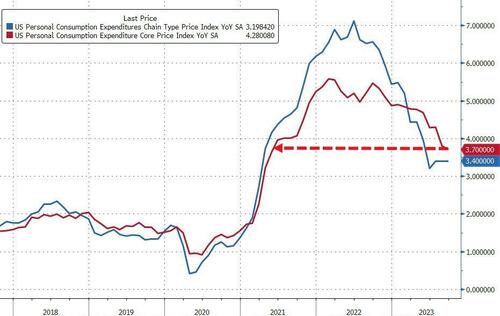 Source: Bloomberg
However, while the YoY data slowed, Core PCE rose by 0.3% MoM - the biggest MoM jump in four months.
Services inflation excluding housing and energy accelerated to 0.4%, from 0.1% in the prior month.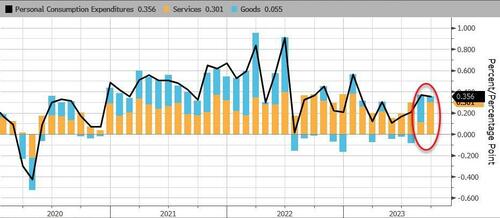 The overall PCE price index, meanwhile, rose 0.4%, bolstered by higher energy prices.
Even more focused, is the Fed's view on Services inflation ex-Shelter, and the PCE-equivalent shows that it is slowing/trending lower but very much still stuck at high levels (and rose a large 0.4% MoM)...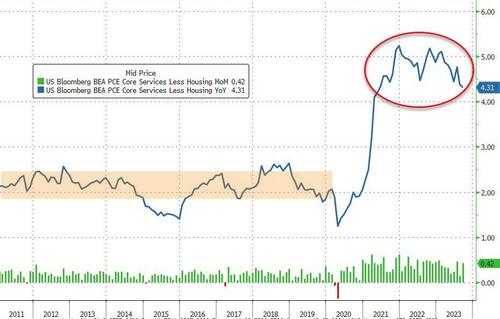 Personal Consumption soared 0.7% MoM while incomes grew at only 0.3% MoM...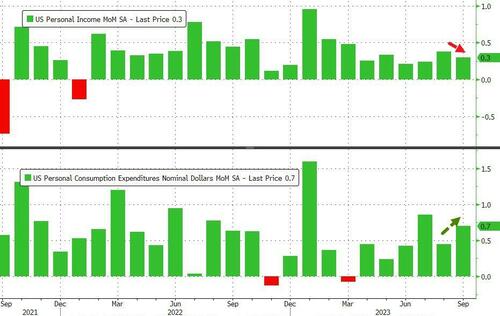 Source: Bloomberg
Focusing on the income side alone, private workers wages plunged to 3.9%, down from 4.5% and the lowest since Feb 2021.
So where is the offset to hot wages you may ask? Why government workers: wages of govt workers are up 7.8% YoY vs 7.4% in August and approaching the record high of 8.7% in Oct 2021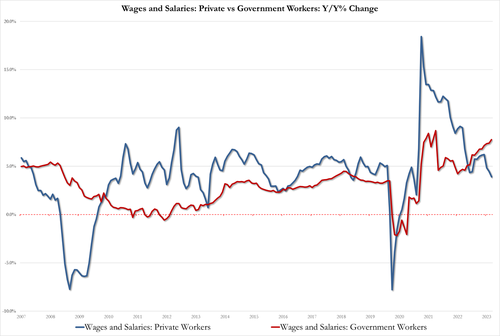 All of which means the personal savings rate collapsed even further, from 4.0% to 3.4% of DPI...
Source: Bloomberg
The savings rate is down 4 straight months, back near record lows... AND this is after artificial revisions that artificially boosted the savings rate 3 times in the past year (see above chart)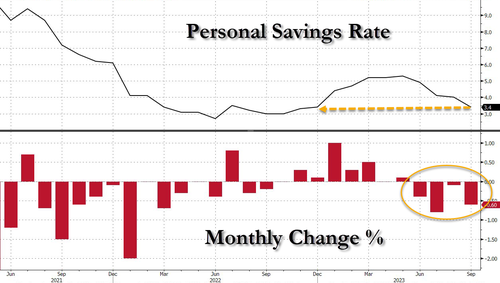 Bidenomics, hard at work.
Loading...