---
Small Business Bankruptcies Surge In 2023, Five Reasons Why
Authored by Mike Shedlock via MishTalk.com,
Small business bankruptcies are at a much higher pace than any year since the Covid pandemic...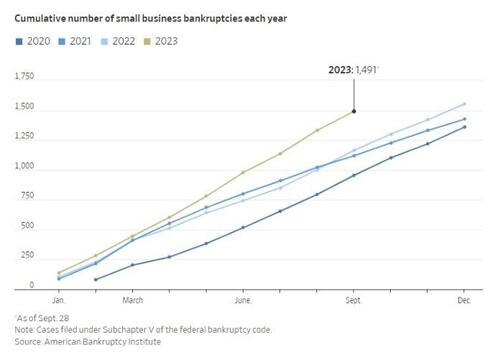 Small business bankruptcies from the American Bankruptcy Institute via the Wall Street Journal
The Wall Street Journal reports There's No Soft Landing for These Businesses
Nearly 1,500 small businesses filed for Subchapter V bankruptcy this year through Sept. 28, nearly as many as in all of 2022, according to the American Bankruptcy Institute.

Bankruptcy petitions are just one sign of financial stress. Small-business loan delinquencies and defaults have edged upward since June 2022 and are now above prepandemic averages, according to Equifax.

An index tracking small-business owners' confidence ticked down slightly in September, driven by heightened concerns about the economy, according to a survey of more than 750 small businesses. Fifty-two percent of respondents believed that the country is approaching or in a recession, said the survey by Vistage Worldwide, a business-coaching and peer-advisory firm.

Robert Gonzales, a bankruptcy attorney in Nashville, said he's now getting four times as many calls as he did a year ago from small businesses considering a bankruptcy filing.

"We are just at the front end of the impact of these dramatically higher interest rates," Gonzales said. "There are going to be plenty of small businesses that are overleveraged."
Five Reasons for Surge in Bankruptcies
Rising Interest Rates

Surging Wages

Tighter Bank Credit

Overleverage

Work-at-Home Curtailing Demand
Fed Rate Interest Rate Hike Expectations Are Still Higher for Even Longer
The Fed has hiked interest rates to 5.25% to 5.50%. It's the highest in 22 years.
And Fed Rate Interest Rate Hike Expectations Are Still Higher for Even Longer
Surge in Wages
Minimum wages have surged. Unions are piling on. Small businesses have to offer prevailing wages or they cannot get workers.
In California, Minimum Wage for Fast Food Workers Jumps 30% to $20 Per Hour. Governor Gavib Newsom called it a "big deal", I responded:
A Big Deal Indeed, Expect More Inflation

Yes, governor, this is very big deal. It will increase the cost of eating out everywhere.

The bill Newsom signed only applies to restaurants that have at least 60 locations nationwide — with an exception for restaurants that make and sell their own bread, like Panera Bread (what's that exception all about?)

Nonetheless, the bill will force many small restaurants out of business or they will pony up too.

30 Percent Raise Coming Up!

If McDonalds pays $20, why take $15.50 elsewhere?

The $4.50 hike from $15.50 to $20 is a massive 30 percent jump.

Expect prices at all restaurant to rise. Then think ahead. This extra money is certain to increase demands for all goods and services, so guess what.
Other states will follow California.
Biden Newsome Tag Team
Biden's energy policies have made the US less secure on oil, more dependent on China for materials needed to make batteries, fueled a surge in inflation, and ironically did not do a damn thing for the environment, arguably making matters worse.
See  The Shocking Truth About Biden's Proposed Energy Fuel Standards for discussion of the administration's admitted impacts of Biden's mileage mandates.
Newsom is doing everything he can to make things even worse.
The tag team of Biden and Newsom is an inflationary sight to behold.
Bank Credit and Over-Leverage
In the wake of the failure of Silicon Valley Bank, across the board small regional banks are curtailing credit.
The regional banks over-leveraged on interest rate bets. And businesses overleveraged too, getting caught up in work-from-home environments that curtailed demand for some goods and services.
The bankruptcies will fall hard on the regional banks.
Add it all up and things rate to get worse.
Loading...