---
Stimmy Checks Spark 'Spectacular' Retail Sales Spendfest In March... But What Happens Next?
After surging in January (stimmy checks), and plunging in February ( no stimmy checks and bad weather), BofA has warned investors to expect "March Madness" for retail sales as the latest round of stimmy checks as they expect theheadline print to more than double consensus expectations of a 5.8% MoM jump. They were not far off as the headline print soared a stunning 9.8% MoM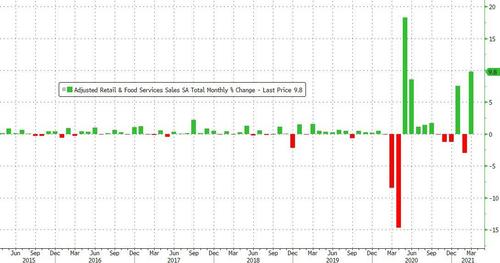 Source: Bloomberg
But, it's the year-over-year data that really stands out as retail sales soared 27.7% YoY, thanks to last March's collapse...
Source: Bloomberg
Retail sales soared in every category with sporting goods, clothing, food services, motor vehicles, and building materials all exploding higher as economies reopened...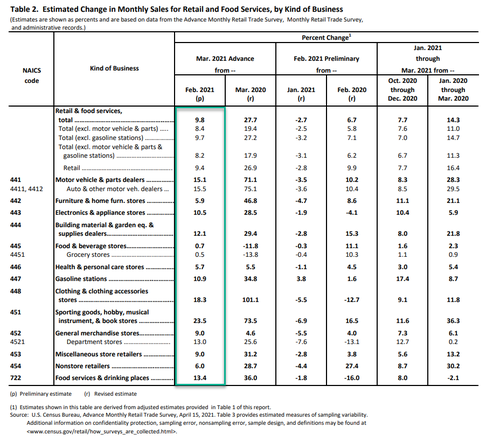 Personal incomes were boosted during the month by the distribution of $1,400 stimulus checks from the latest federal pandemic aid bill, signed by President Joe Biden on March 11. Further, the labor market added more than 900,000 jobs last month.
The big question now, of course, is what then - with far fewer direct stimmies on the horizon, is this as good as it gets for a long, long time?