---
Struggling AMC Offers Pandemic Special: Rent An Entire Theater For Just $99
AMC Entertainment Holdings, Inc., the largest movie theater chain in the world, with over 1,000 theaters across the US, is making a last-ditch effort to raise cash via renting out its auditoriums for private screenings. The move comes as the theater chain could run out of "liquidity" within six months as attendance levels remain weak. 
Starting at $99, AMC is renting out an auditorium, at select locations, for private parties, up to 20, with the ability to screen the latest movies. Depending on the movie, each private screening could range between $99-$349 but split 20 ways, and hopefully, everyone took a rapid COVID-19 test - could be a promising move by the company to raise some cash.

But how promising?
US virus cases surged above 70,000 on Friday, with threats of another wave, right before flu season - it's going to take a whole lot of convincing on AMC's behalf to bring people back to indoor movie theaters, especially since there is no proven or widely available vaccine. As for millennials, well, this could be a golden opportunity to take advantage of pandemic pricing - just like we've outlined (here & here).   
In case you're wondering what movies are available - right on AMC's website - they mention at least a dozen movies and pricing: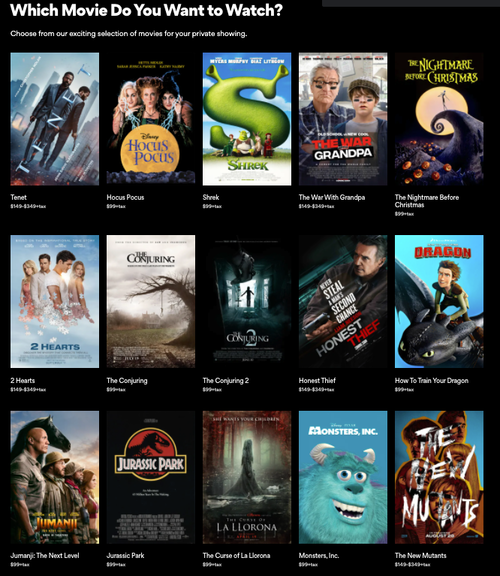 The move comes as the entire movie theater industry has imploded, along with much of the service sector economy. AMC recently said attendance levels are down 85% since reopening over the same period last year. The possibilities are surging that AMC could experience bankruptcy within the next six months as attendance levels are expected to stay muted through 2021. 
As Rabobank's Michael Every said recently, "the movie industry - how we watch them, and so the money for how they are made, if they are made - could be dying, indicative of a whole key slice of the service-sector economy."
Even with the 70% of US movie theaters reopened during Labor Day, social distancing, virus fears, and surging cases across the Sun Belt kept people away.  
Ahead of Labor Day, "Tenet," an action-thriller and science fiction film directed by Christopher Nolan, was supposed to be Hollywood's big release to drive Americans back into theater seats. In short, it was not. One Twitter user captured video inside a movie theater in Baltimore around the release of the film in early September, on a Friday, in primetime, as it appeared no one showed up. We noted then:
"The moral of the movie theater story is if theaters reopen with top-notch movies by big-time producers, well, the American public is still not interested because they believe facilities are not safe from the virus. To bring consumers back, a lot of convincing by theater operators will be needed."
No one at the movie theater. pic.twitter.com/uJrDo7KZZp

— Alastair Williamson (@StockBoardAsset) September 12, 2020
October attendance has been so awful that Cineworld, the world's second-largest movie theater chain behind AMC, recently suspended operations in the US and UK. 
With AMC about to run out of cash, Cineworld shutting down its US theaters, and attendance levels across the industry in collapse - at what point will Hollywood ask Washington for a bailout of their own?