---
Suburban Rents Rise As Urbanization Trend Reverses 
There's a new twist to the rental market: Apartment rents in suburban markets rise across the U.S., while city rents are slumping, mostly because city dwellers are fleeing imploding liberal-run metro areas.  
By now, readers have grasped several of the factors pushing city dwellers out to rural communities, that is, the virus pandemic and resulting lockdowns, socio-economic implosions, and, of course, remote working. 
A revival of the suburbs is the most significant 2020 real estate trend that will likely persist for a couple of years. Apartments in rural America offer more room, peace of mind, less crime, and lower probabilities of contracting the virus than ones stacked on top of each other in densely populated cities. 
As early as March 25, we noted how city folks in Southern California packed up their bags and stayed in rural desert Airbnb properties to escape the pandemic. The trend has certainly evolved since then, with many top metro areas, including New York City and San Francisco, seeing large outflows of folks. 
WSJ cited a new report from data firm CoStar Group Inc. as saying apartment rents in suburban markets of Sacramento, California; Norfolk, Virginia; and the Inland Empire of Southern California increased 3.2% to 4.6% at the end of the third quarter compared with March. 
Notice how rental apartment vacancy rates in cities have surged while suburban vacancy rates remain at multi-year lows.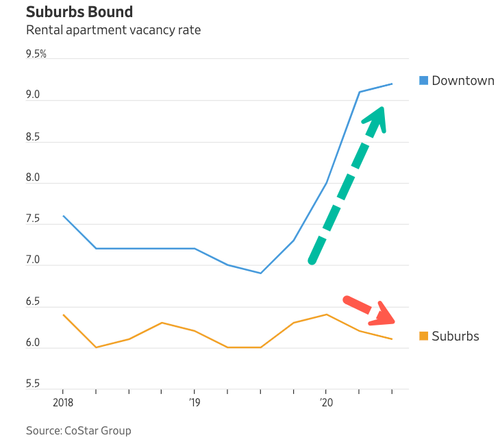 CoStar points out rents in top metro areas have been tumbling this year. San Francisco rents cratered 17% since the March peak, the country's hardest-hit metro. Rents have dropped 9.2% in Boston and between 5%-6% in New York City, Los Angeles, and Philadelphia.
WSJ notes, of the people fleeing cities, many are millennial couples who have delayed marriage and kids and now want to start a family. They also say landlords have noticed higher cost metro areas like New York City and San Francisco have seen outflows of folks to places like Austin and Denver. Many city dwellers are seeking more space for their money as opposed to 1,000 sq ft flats in cities. 
The flight to the suburbs may have reversed or at least stalled decades worth of urbanization trends. At least now, the Baby Boomer generation can dump their suburban condos or McMansions to millennials.