---
These Cities Offer The Best Work-Life Balance In The World
While some careers can be relatively stress-free, maintaining a healthy work-life balance can seem impossible for many.
The easy access to technology, blurred boundaries around work and personal time, and fear of job loss push many to work overtime, and fail to use vacation time or sick leave.
However, in some cities across the world, the situation is very different. In top-ranked locales, companies offer working professionals an opportunity to maintain a work-life balance through good healthcare, ample vacation time, and so on.
In this graphic, Visual Capitalist's Freny Fernandes and Bhabna Bannerjee use the Forbes Advisor 2023 ranking to highlight the top cities in the world that encourage work-life balance. The ranking compares data from 128 cities to form the Work-Life Balance Score, which is marked on a scale of 100. The higher the score, the better work–life balance workers in a city have. We've covered the top 25 in the graphic below.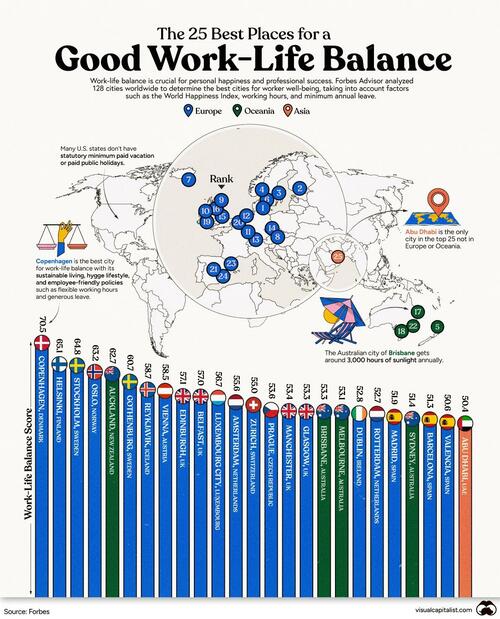 Europe Tops the Chart
Twenty of the 25 cities with the best work-life balance fall in Europe. The diverse range of cultures and lifestyles in these cities offers its residents a balance between work and personal life.
The top city on this list, with a work-life balance score of 70.5/100, is Copenhagen, Denmark. The city's high standard of living, low unemployment rate, 52-week-long parental leave, and focus on sustainability and green spaces all contribute to the city's top score. It also helps that the Danish lifestyle focuses on taking time for self-care and relaxation.
Healthy lifestyles along with generous vacation and parental leave policies also placed the European cities of Helsinki, Stockholm, and Oslo in the top five in this list. In fact, the average employee work week in these cities falls below 30 hours. The proportion of remote jobs in Helsinki, Finland is over 50%.
Many companies in Europe prioritize employee well-being, which has led to the emergence of a wellness culture. This culture includes practices such as remote work and mental health support.
Balancing Work and Life in Oceania
Although Europe dominates the top 25 list, some cities in Oceania also boast of healthy work-life balance scores.
Ranked 5th on the list of cities with the best work-life balance, workers in Auckland, New Zealand, have a 26.3-hour work week on average and a year's worth of parental leave.
Meanwhile, the cities of Brisbane (53.3), Melbourne (53.1), and Sydney (51.4) in Australia follow an average work week of 32.4 hours to 38 hours. The sunny weather in these cities also positively influences their scores.
For Some, Safety is Key
UAE's capital city is the only Asian city to make it to this top 25 list, and this is despite its high property prices and relatively low number of vacation days available to workers. On the flip side, the city is safe, sunny, and boasts a high quality of life.
Loading...