---
Tom-Tom Traffic Data Of Top US Metros Suggests "Sluggish" Recovery
High-frequency economic indicators suggest "V"-shaped recoveries touted by the Trump administration across major US metro areas could be overhyped; after all, President Trump has an election to win - so pump away... 
Given the nature of the COVID-19 pandemic, where certain economic activities, such as travel and tourism, going to restaurants, and or just traveling to local shops, have been hampered not only by social distancing restrictions but also by consumer choices. 
Without a vaccine, nevertheless, who in their right mind will take a drug with expedited clinical trials, the ability to convince the public to rush back to restaurants, movie theaters, and or retail stores will be a significant challenge for late 2020. More than likely, people will stay home this holiday season, adding to the increased downward pressure on the economy. 
Conventional economic indicators do suggest unprecedented monetary and fiscal stimulus, in the trillions of dollars, was able to floor the crash in early spring - but now, heading into fall, the recovery is waning as a fiscal cliff enters the 49th day on Saturday (Sept. 19). 
For more color on what high-frequency data suggests, TomTom Traffic Index data for the most populated US metro areas continue to show a sluggish recovery. 
Analyzing traffic data of New York City, Los Angeles, Chicago, Houston, and Philadelphia, the most populated cities in the US, a recovery in traffic congestion to post-virus levels has yet to be recognized. 
New York City
Los Angeles
Chicago
Houston
Philadelphia
Readers may recall, we shared a KPMG International report in July specifying "an unprecedented decline in travel" is ahead with "14 million fewer cars" expected on US highways.
For further clues on the recovery shape, high-frequency data from Goldman Sachs' latest Activity Tracker points to a recovery that has stalled, not just in the US, but elsewhere.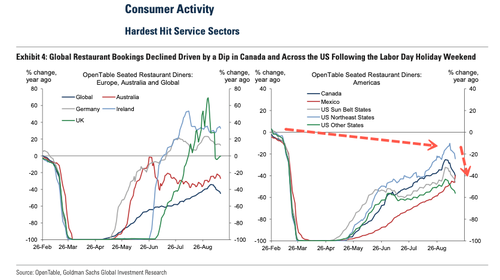 Movie theater box office revenues show some signs of life in the US and other countries but remain below pre-virus levels. China appears to be an anomaly.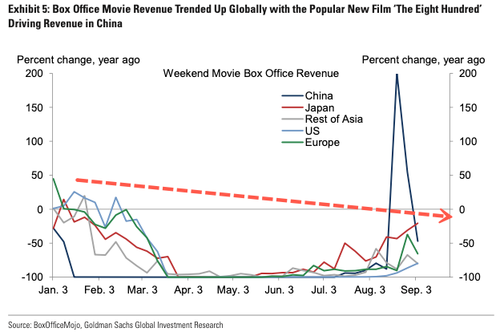 US Department store sales remain on a virus low.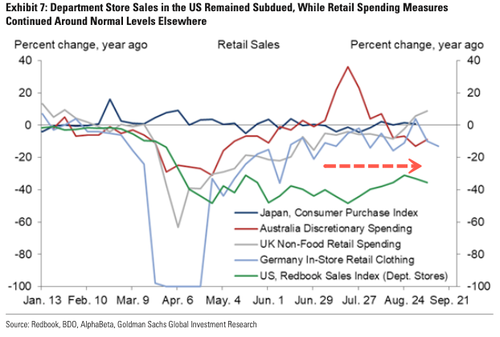 US labor market recovery has stalled. Increasing permanent job loss is causing deep economic scarring.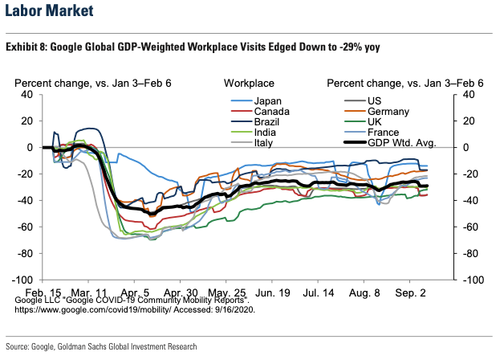 The virus pandemic is a defining event, more or less, a transitional period for the country, one where society, politics, and business will be reshaped, and the deep economic scarring today will result in a paralyzed economy, with the need for structural reform.