---
UK Govt Bails Out Broke Homeowners, But "I Don't Think We're Out Of The Woods"
The UK housing market is in trouble. More explicitly, it is Britain's mortgage borrowers that are directly impacted from higher and higher rates flowing through the capital markets from The Bank of England.
While fixed-rate borrowers are protected from the immediate impact of rate-hikes, variable-rate (or interest-only/resettable) borrowers are directly impacted and given the velocity and size of the hiking cycle so far, more pain is to come and more pressure on the housing market overall.
David Hollingworth, associate director at L&C, said:
"I don't think we're out of the woods in terms of the movement in fixed rates at the moment."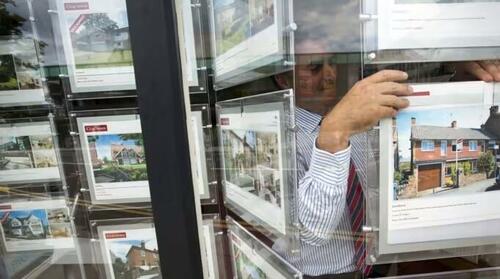 Hollingworth is correct, as we noted last year, 26% of mortgage payments are at risk of imminent increases, 37% at risk over the next two years if rates don't rapidly fall, and 37% can ride out this storm for a few more years.
And as The FT reports, lenders began announcing changes to their variable rates after the decision on Thursday.
The impact of higher rates on house purchase activity was not yet apparent, estate agents said. Matt Thompson, head of sales at estate agent Chestertons, said:
"At this stage, we haven't yet encountered homeowners who have been forced to sell up but, if rates continue to rise, some owners may be forced to review the situation and weigh up their options."
However, he added that heavily mortgaged buy-to-let landlords, who typically hold interest-only loans, could face higher payments that would threaten their ability to make a profit.
"This could result in some landlords deciding to offload their assets."
In fact, as Adrian Anderson, director at broker Anderson Harris, points out, "most people are maxing out on affordability now."
The calls for 'help' are already growing, and the Tory government - facing a shellacking in the polls - have been quick to step up.
As Bloomberg reports, Chancellor of the Exchequer Jeremy Hunt and the UK's largest lenders have agreed people should be given a 12-month grace period if they miss mortgage payments as fears grow about the burden on millions of homeowners of rapidly rising mortgage rates.
For those people at risk of losing their home, lenders have "agreed there will be a minimum 12-month period before there's a repossession without consent," Hunt said in a statement after meeting bank executives earlier.
The statement also noted a new agreement that gives customers the ability to switch to an interest-only mortgage for six months, or extend their mortgage term to reduce their monthly payments and then return to their original arrangement without penalty or impact on their credit scores within the first six months.
Hunt said: "There are two groups of people that we are particularly worried about."
"The first are people who are at real risk of losing their homes because they fall behind in their mortgage payments."

"The second are people who are having to change their mortgage because their fixed rate comes to an end, and they are worried about the impact on their family finances of higher mortgage rates."
Consumer champion Martin Lewis said he was "pleased to see it looks like the chancellor has listened and those measures are going to be put in practice by the banks."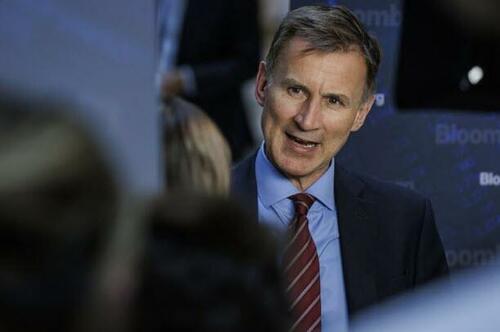 However, many suggest this is yet another policy mistake at a time of considerable doubt about UK policymakers credibility. As Adam Posen - president of the Peterson Institute for International Economics and a former member of the Bank of England's Monetary Policy Committee - wrote in an op-ed recently at The FT, policymakers must act as if they are under an emerging market style stabilisation programme. One of his suggestions is harsh but fair:
"...calls for aid for mortgage holders need to be largely ignored.

There are few unfairnesses greater than the fact that property owners get all the benefits of real estate price booms and low interest rates, but demand bailouts, often successfully, when rates rise and prices fall.

In a stabilisation, hard choices have to be made. Let property prices fall, which is disinflationary, and force any restructuring of mortgages to come out of the private sector lenders, not the public budget."
Of course, opposition leaders are claiming the government's actions don't go far enough.
Labour said the measures were "weak".
The party argues that mortgage lenders should be forced to allow borrowers to temporarily switch to interest-only payments or lengthen their mortgage period – an idea that the government has resisted.
The Lib Dems described the measures as a "sticking plaster for a gushing wound".
However, as Deutsche Bank's Jim Reid concluded, while much can change very quickly in politics and markets, if markets are correct, "the UK housing market is in for a huge amount of pain ahead," unless the BOE were to somehow monetize all the upcoming debt issuance and sends rates back to zero.
For now, the plan is temporary debt extension and easing of terms... but as ever, temporary government actions have a habit of becoming permanent because. Instead of more band-aids, maybe just rip this band-aid off, as Posen suggests, and force the cleansing process of the over-lending credit markets. Especially at a time when the encumbent government faces a serious defeat at best.
Loading...