---
UMich Consumer Sentiment Remains At 11-Year-Lows; 'Rich' & 'Independents' Weakest
Having tumbled to decade (or worse) lows in the preliminary February data, University of Michigan's sentiment survey was expected to show no improvement in the final print but in fact the headline reading of sentiment picked up to 62.8 from 61.7 earlier in the month (though still remains at decade lows). The improvement in sentiment from earlier in the month was due to a pickup in outlook. The Michigan survey's measure of future expectations climbed to 59.4 from the preliminary reading of 57.4. An index of current conditions was little changed from the initial estimate. Both, however, fell from January.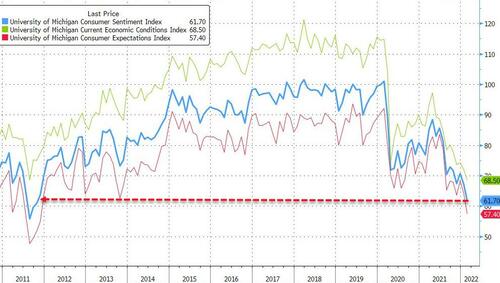 Source: Bloomberg
Confidence remains notably divergent across the partisan divide, but it is the independents that are likely the most worrisome for the current administration as they appear to be losing faith.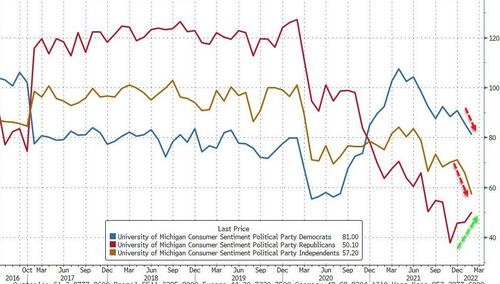 Source: Bloomberg
All income brackets saw sentiment drop, but it was the wealthiest that crashed the most (amid stock market chaos presumably)...
"Although Consumer Sentiment posted a slight increase in the last half of February, it still remained at its lowest level in the past decade, and the loss was still entirely due to a 12.9% decline among households with incomes of $100,000 or more."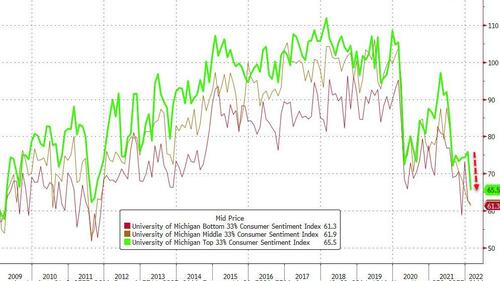 Source: Bloomberg
Worsening financial conditions were reported by 40% of respondents compared with 36% who said they were better off, the largest difference in nine years, the report showed.
"The February descent resulted from inflationary declines in personal finances, a near universal awareness of rising interest rates, falling confidence in the government's economic policies, and the most negative long term prospects for the economy in the past decade," Richard Curtin, director of the survey, said in a statement.
Buying attitudes weakened in every category with vehicles crashing to record-er lows...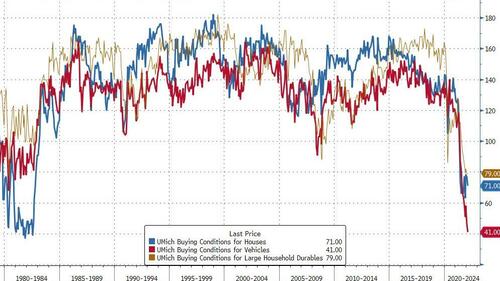 Source: Bloomberg
Finally, inflation expectations remain at multi-year highs...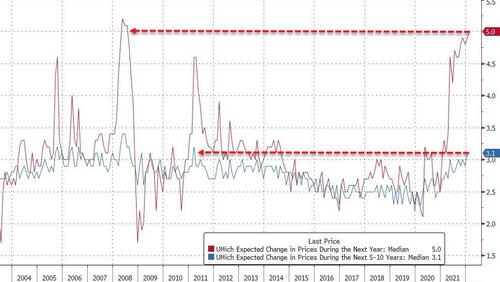 Source: Bloomberg
Notably, responses to the survey were collected prior to Russia's invasion of Ukraine, which pushed up gasoline prices.