---
UMich Consumer Sentiment Unexpectedly Crashes To 11-Year Lows, Democrat Confidence Dumps
After January's surprisingly bad decline to fresh decade lows, analysts expect University of Michigan's Sentiment Survey to show further modest weakness in preliminary February data. They were right in direction but the magnitude is way off - UMich headline sentiment crashed from 67.2 to 61.7 (against 67.0 expectations). Both Current Conditions (from 72.0 to 68.5) and Expectations plunged (from 64.1 to 57.4), even though both were expected to show modest rebounds...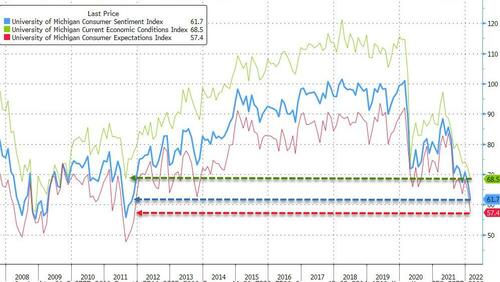 Source: Bloomberg
That is the lowest print for all indices since 2011.
Politically, sentiment among Democrats and Independents plunged further while Republican confidence rose. Poor government economic policies were cited by 51% of respondents, the highest share since 2014.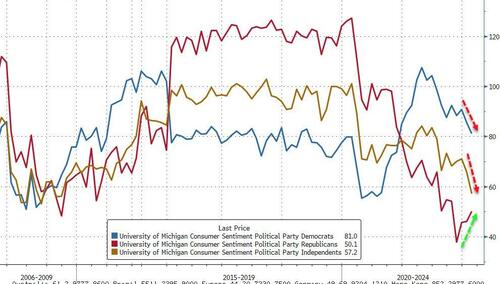 Source: Bloomberg
Buying attitudes for vehicles and homes deteriorated in February...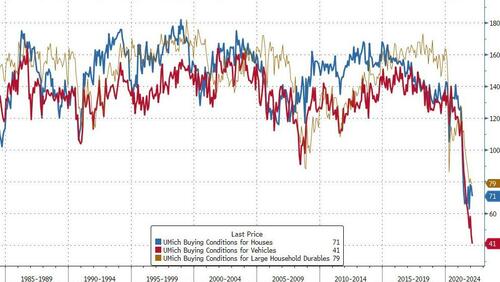 Source: Bloomberg
Perhaps most notably, the all-important inflation expectations rose once again with Americans expecting 5% inflation over the next 12 months - the most since 2008...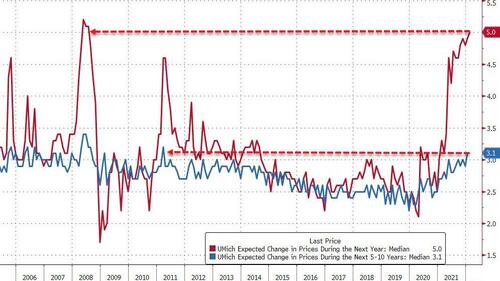 Source: Bloomberg
The survey notes that the entire decline was in households with incomes of 100K or more. That suggests the fall in the stock market was a major driver of the decline.
Bad financial times over the next five years were anticipated by nearly two-thirds of all consumers, representing the weakest long-term outlook in the past decade, according to the university's report.