---
UMich Sentiment Survey Collapses To 11-Year-Lows, Inflation Expectations Surge
After disappointingly tumbling to COVID crisis lows in October, analysts expected UMich sentiment to rebound modestly in preliminary November data led by a pick-up in 'expectations' (or hope). However, analysts were wrong - very wrong!
UMich headline sentiment plunged from 71.7 to 66.8 (way below the 72.5 expected) - that is the lowest since 2011. Both 'current conditions' and 'expectations' also plunged in preliminary November data...
Source: Bloomberg
As UMich Director Richard Curtin notes, the plunge in sentiment is "due to an escalating inflation rate and the growing belief among consumers that no effective policies have yet been developed to reduce the damage from surging inflation."
All this despite a stock market that is surging to fresh highs day by day...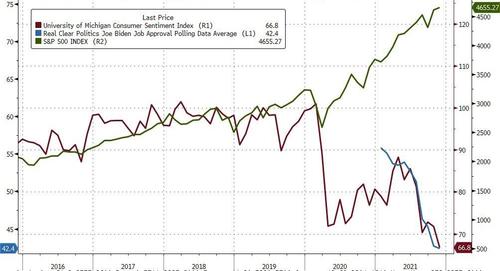 Source: Bloomberg
Buying Conditions crashed to new cycle (multi-decade) lows (after a very brief rebound in home-buying conditions in October)...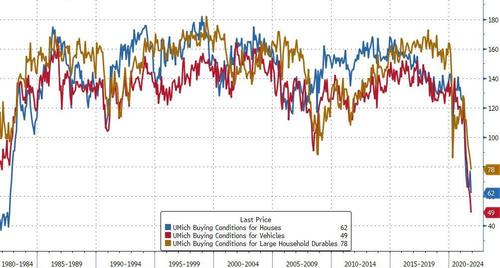 Source: Bloomberg
As President Biden's approval rating plumbs new lows, it is not surprising that sentiment is down across all political cohorts, but the big drop was for Republicans...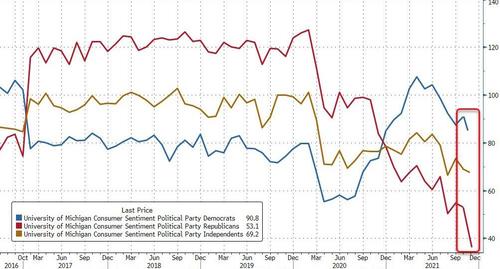 Source: Bloomberg
"The issues underlying the stark partisan divisions are based on stark differences in economic policies.

The stylized difference is that one side favors maximizing economic growth and efficiency, the other side on maximizing distributional equity and fairness. Such legislative challenges are won or lost by extreme partisan support drawn from both sides of the aisle.

Such extremes, however, make achieving their policy goals much more important than providing effective counter measures to ongoing economic hardships."
Finally, and most importantly, short-term inflation expectations surged to a new cycle high - the highest since 2008...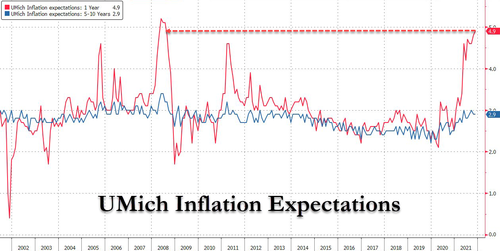 Source: Bloomberg
The proportion of households who expected to be worse off financially stood at 24% in November, the last time a higher figure was recorded was in June 2008.