---
What Will It Take To Sink The Housing Market?
Update (1330ET): Following this morning's print showing that 2021 saw the best annual existing home sales since 2006, MishTalk's Mike Shedlock asks the question everyone should be asking as prices hit record-er and record-er prices - what will it take to sink the housing market?
Sales are hot thanks to cheap money from the Fed, rising rent prices, speculation, fear of missing out, three rounds of fiscal stimulus, and a booming stock market. 

It's difficult to put a percentage on each of those factors but they all tie together. 

If the Fed gets in 3 or 4 rate hikes, mortgage rates will go up and so will alleged unaffordability. 

The stock market boom makes people feel wealthy and that leads to second home buying which in turn reduces supply available to first time buyers. 

Fear of missing out (FOMO) is always a factor in bubbles and the Fed sure blew another. Housing speculation is nowhere near as great as in 2007 but the stock market euphoria is much greater. 

Finally, there does not have to be any reason for a selloff other than a change in sentiment.

Think back to 2006 when there were lines around the block for the right to enter a lottery to buy a Florida condo. Two weeks later there were no lines. 

That spread from city to city and quickly nationwide. Sentiment changed and there was no apparent trigger. The pool of greater fools simply ran out.

This time the Fed will get the blame but the result will be the same. The stock market and housing will go down together and most will say "No one saw this coming." 
*  *  *
As we detailed earlier, amid Omicron anxiety, surging mortgage rates, and a dip in homebuilder sentiment, analysts expected a modest 0.6% MoM drop in existing home sales in December, but while they were right on direction, the magnitude was way off as December Existing Home Sales crashed 4.6% MoM - the biggest MoM drop since Feb 2021.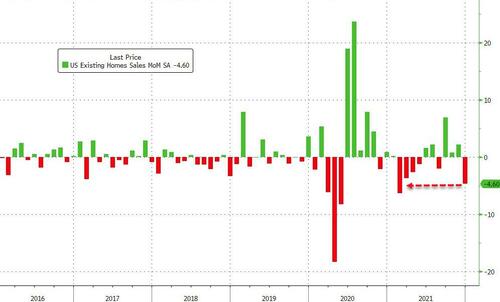 Source: Bloomberg
This is the worst December drop in sales since 2009 and existing home sales dropped 7% YoY.
"Even as sales are falling, the fact that prices are showing this strength is showing that buyers are there. But the lack of inventory is hindering some of the sales activity," Lawrence Yun, NAR's chief economist, said on a call with reporters.
While the December print saw total existing home sales slide, 2021 still saw the best annual sales since 2006...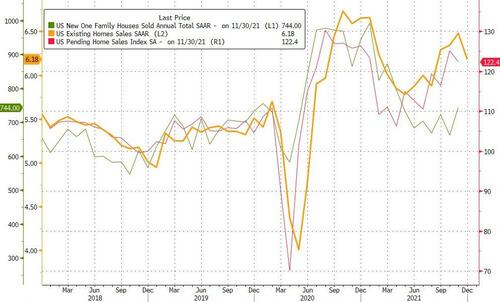 Source: Bloomberg
One potential problem looming is that home prices appreciated by the most since 1999. The median selling price rose 15.8% in December from a year ago to $358,000. That compares with $354,400 in the prior month.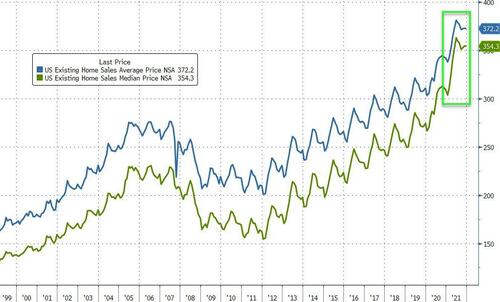 Sales of homes costing less than $250,000 declined in December, while purchases of properties priced at least $500,000 increased
Lean inventories remain the housing market's biggest problem.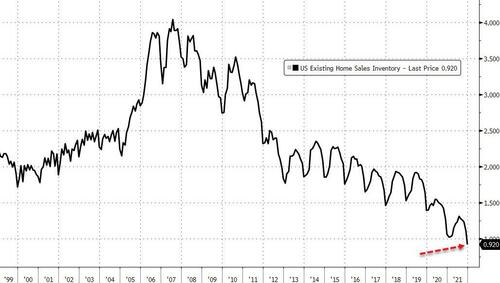 There were just 910,000 homes for sale last month, down 18% from a month earlier and 14.2% from a year ago.
At the current pace it would take 1.8 months to sell all the homes on the market, also a record low. Realtors see anything below five months of supply as a sign of a tight market.
All regions posted sales decreases last month, led by the West and South