---
US Home Price Growth Slowest In A Decade, San Francisco Crashes
S&P CoreLogic (Case-Shiller) home price index unexpectedly rose (0.06% MoM) in February (the latest data released today), which slowed the annual 20-City Composite price index growth to just 0.36% YoY...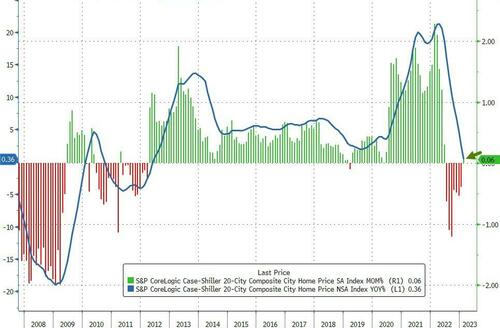 Source: Bloomberg
Despite the small MoM pop (likely last minute panic bids as mortgage rate fell briefly), that is the slowest YoY growth since May 2012.
"February's results were most interesting because of their stark regional differences,"  Craig J. Lazzara, managing director at S&P Dow Jones Indices, said in statement.

"It's unsurprising that the Southeast (+7.8%) remains the country's strongest region, while the West (-4.2%) continues as the weakest."
Diving down to the metropolitan regions, Miami, Tampa, Atlanta again reported highest year-over-year gains (though Miami saw a big MoM drop) among 20 cities surveyed while the West Coast continues to get clubbed like a baby seal with Seattle, San Diego, and San Francisco now all underwater YoY...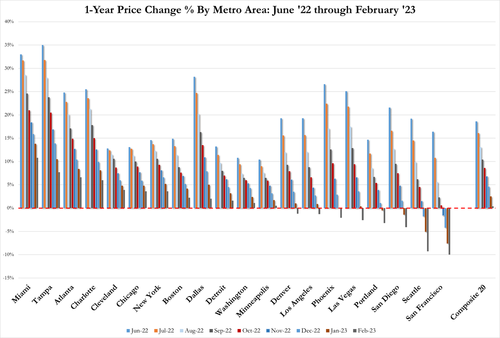 Given the heavy lag and smoothing in the Case-Shiller data, it is certainly not useful for real-time calls for turning points, but the trend is very clear now and given the historical relationship with mortgage rates, we suspect prices have a lot further to fall...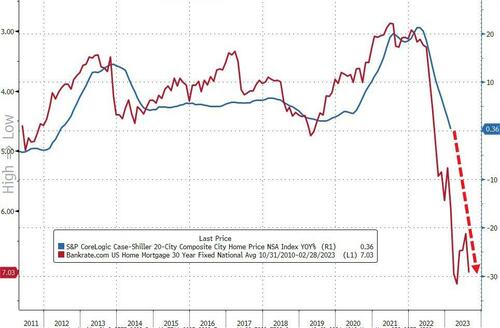 Source: Bloomberg
Will a 30% YoY decline in home prices be enough for The Fed? We suspect it will take more than Biden's new 'punish high credit scores' plan to rescue this housing market.
Loading...