---
US Home Prices Are Accelerating At Their Fastest Pace In 2 Years
Amid a resurgent US housing market, it is perhaps no surprise that Case-Shiller reports that August (the latest lagged data) saw a serious surge in home prices across the 20 largest US cities. Against expectations of a 4.2% YoY rise, Case-Shiller reported a 5.18% YoY gain - the fastest pace of acceleration since August 2018.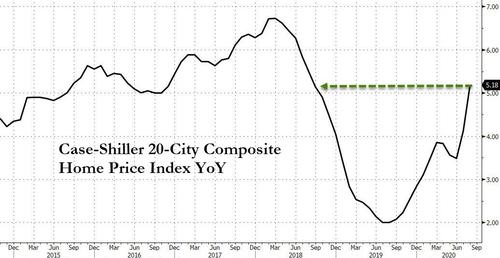 Source: Bloomberg
Finally, we note that yesterday's new home sales for September did disappoint, so maybe this is the peak of pent-up demand optimism. Although we note that the average new home price also rose to a new record high.
Phoenix, Seattle and San Diego reported the highest year-over-year gains among the 19 cities (Detroit excluded from report due to virus-related reporting constraints). Chicago and New York reported the weakest YoY gains.