---
US Home Prices Show Annual Decline For First Time Since 2012
After an unexpected, and small, blip higher in February; US home prices - according to S&P Global Case-Shiller Composite index - were expected to continue their decline in March data released today (i.e. very lagged) and they did...on a non-seasonally-adjusted basis.
The 20-City Composite dropped 1.15% MoM (slightly better than the 1.6% drop expected) on a non-seasonally-adjusted basis but rose 0.45% MoM on a seasonally-adjusted basis.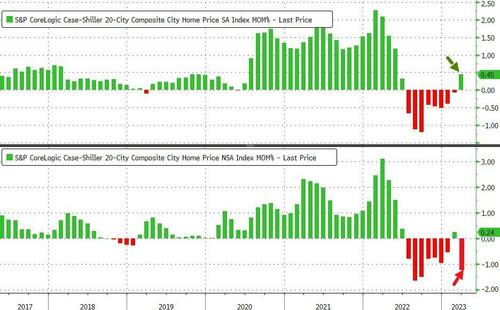 Source: Bloomberg
So take your pick!!!
However, on a non-seasonally-adjusted basis, home prices decline YoY for the first time since May 2012 (as shown in the chart below):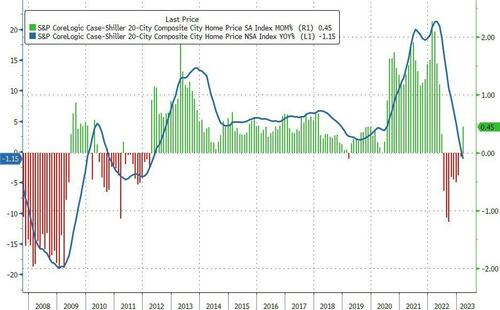 Source: Bloomberg
Miami, Tampa, Charlotte reported highest year-over-year gains among 20 cities surveyed while San Francisco is down a shocking 11.2% YoY...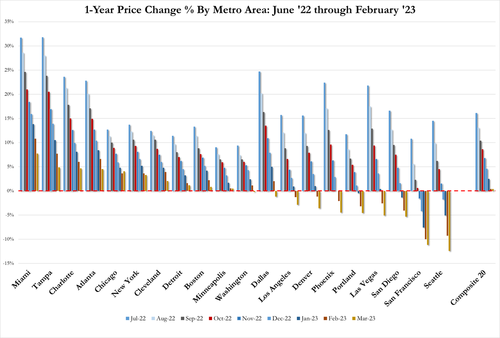 The index provider preferred to focus on the SA data for signs of hope...
"Two months of increasing prices do not a definitive recovery make, but March's results suggest that the decline in home prices that began in June 2022 may have come to an end," Craig J. Lazzara, managing director at S&P Dow Jones Indices, said in statement.

"That said, the challenges posed by current mortgage rates and the continuing possibility of economic weakness are likely to remain a headwind for housing prices for at least the next several months."
Finally, as a reminder, the man behind the home price index - Yale economist Bob Shiller - told CNBC's "Closing Bell: Overtime" last month that "home prices are very, very high by historical standards." 
"I would extrapolate the downturn somewhat - it's going to continue," he added.

"Maybe if you have a good chance to delay your purchase, it might be a good time to do it."

"It might get a little cheaper after another six months."
We suspect that is what Powell is hoping for, and judging by mortgage rates, prices have a long way to fall...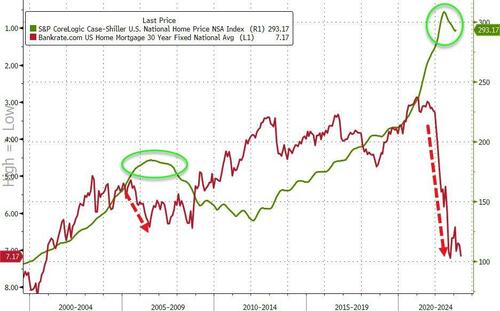 Source: Bloomberg
Unless The Fed folds.
Loading...