---
San Francisco Home Prices Decline YoY As US Home Price Gains Slowed For The 5th Straight Month
Case-Shiller's latest data (for November) showed US home price acceleration continued to slow (-0.54% MoM - slightly stronger than expected) for the 5th straight month.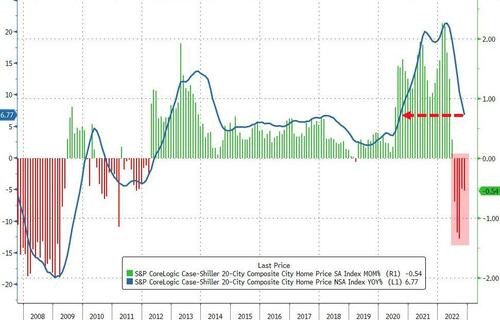 Source: Bloomberg
This slowed the annual growth in the 20-City Composite index to 6.77% YoY - its slowest since Sept 2020.
"As the Federal Reserve moves interest rates higher, mortgage financing continues to be a headwind for home prices," Craig J. Lazzara, managing director at S&P Dow Jones Indices, said in statement.

"Economic weakness, including the possibility of a recession, would also constrain potential buyers. Given these prospects for a challenging macroeconomic environment, home prices may well continue to weaken."
More broadly, the S&P CoreLogic Case-Shiller National Home Price index rose 7.69% YoY in Nov., smallest gain since Sept. 2020, after rising 9.23% in prior month
Every one of the major cities saw home prices decline MoM...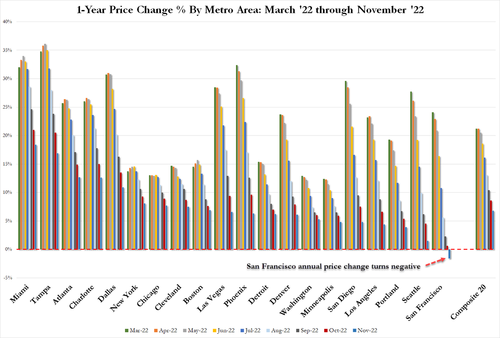 Miami, Tampa, and Atlanta reported the highest year-over-year gains among the 20 cities surveyed but we note that San Francisco home prices are now lower (-1.57%) year-over-year...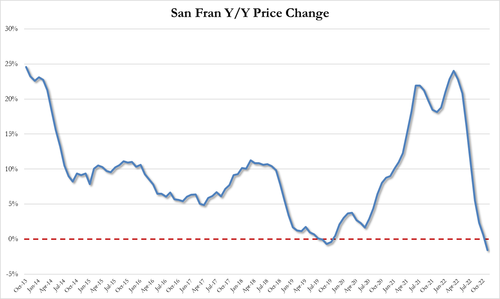 That is the largest price drop since at least 2012...
Loading...