---
US Home Prices Tumbled For 4th Straight Month In October
US Home Prices, based on S&P Global's Case-Shiller data, fell 0.52% MoM in October (the latest data available released this morning), slightly better than the 1.1% drop expected. This slowed the YoY growth 8.64% from 10.4% YoY...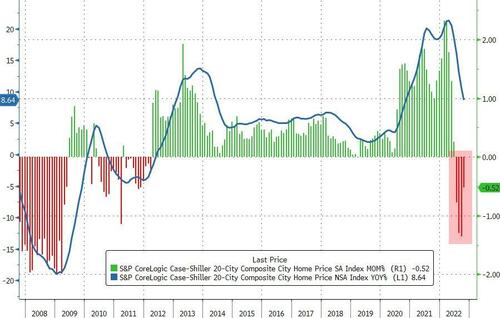 Source: Bloomberg
This is the fourth straight month of declines for home prices.
"As the Federal Reserve continues to move interest rates higher, mortgage financing continues to be a headwind for home prices," Craig J. Lazzara, managing director at S&P Dow Jones Indices, said in statement.

"Given the continuing prospects for a challenging macroeconomic environment, prices may well continue to weaken."
Given the lagged response to the surge in mortgage rates, we suspect the Case-Shiller index has some serious pain ahead...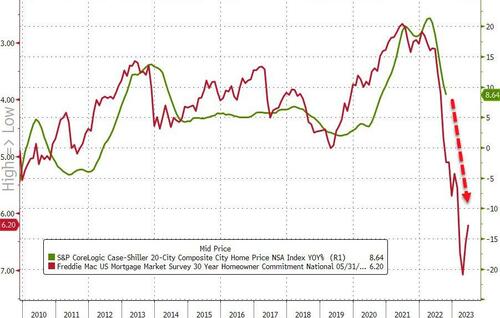 Source: Bloomberg
Miami, Tampa, and Charlotte reported the highest year-over-year gains among the 20 cities surveyed and San Francisco is clinging on with a 0.6% gain...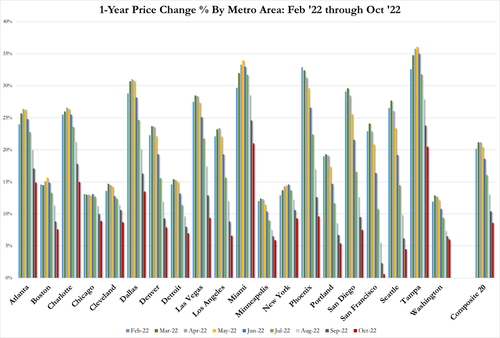 Source: Bloomberg
...and bear in mind that a lot of the gains in Miami and Tampa were 'crypto'-driven so brace for those to catch down to San Francisco's reality soon enough.
Loading...