---
As Mortgage Rates Hit 8%, US Housing Affordability At Lowest Level Since The '80s
Update (1320ET): The average rate on the popular 30-year fixed mortgage rate hit 8% Wednesday morning, according to Mortgage News Daily. 
That is the highest level since mid-2000.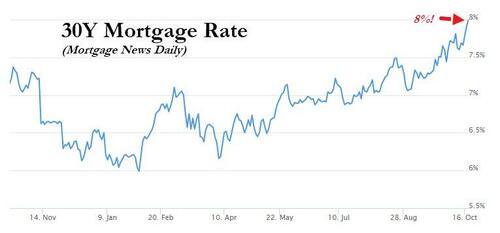 "Here's another milestone that seemed extreme several short months ago," said Matthew Graham, chief operating officer of Mortgage News Daily.
"The fact is that many borrowers have already seen rates over 8%. That said, many borrowers are still seeing rates in the 7s due to buydowns and discount points."
As CNBC reports, to put it in perspective, a buyer purchasing a $400,000 home with a 20% down payment would have a monthly payment today of nearly $1,000 more than it would have been two years ago.
*  *  *
As Andrew Moran detailed earlier via The Epoch Times, the U.S. housing market has witnessed a slowdown in activity this year due to tighter supply, says Thomas Barkin, the president of the Federal Reserve Bank of Richmond.
Speaking at a Real Estate Roundtable event in Washington, D.C., Mr. Barkin explained that home prices have remained strong in an environment of higher interest rates and slowing sales volumes.
But the industry has been pining for lower rates, he noted.
"You may know that the last time the Fed tackled high inflation, in the '80s, homebuilders sent Paul Volcker two-by-fours inscribed with the message: Lower interest rates," he said.
In a letter to Fed Chair Jerome Powell by the National Association of Home Builders, the Mortgage Bankers Association, and the National Association of Realtors, the central bank was urged not to pull the trigger on more rate hikes.
"Further rate increases and a persistently wide spread pose broader risks to economic growth, heightening the likelihood and magnitude of a recession," the letter stated.
A treasure trove of data and research shows that further Fed tightening could exacerbate current conditions in the real estate sector, especially regarding affordability.
Housing Affordability Challenges
With supply failing to keep up with demand and mortgage rates marching toward 8 percent, housing affordability deteriorated to a fresh all-time low in August, new industry data show.
The NAR Housing Affordability Index clocked in at 91.7 in August, down from 93.9 in July - anything below 100 indicates a household with a median income does not earn enough to be approved for a mortgage on a median-priced home. This was the lowest reading since at least the early 1980s.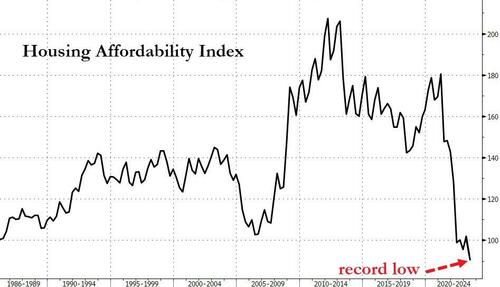 NAR figures highlighted that the typical family needed to earn $107,232 in August to qualify for a mortgage, based on a 20 percent downpayment. It was the third consecutive month of a six-figure headline number.
Meanwhile, the organization reported that the average family spent more than one-quarter (27 percent) of their income on annual mortgage payments.
Housing inventories have worsened over the past year. Existing home sales have declined in 13 of the last 15 months, including a 0.7 percent drop in August.
The challenge faced by the U.S. real estate market today is that homeowners are not erecting for-sale signs on their front lawns.
When the Federal Reserve slashed interest rates to nearly zero during the coronavirus pandemic, mortgage rates crashed to their lowest levels on record.
According to the Freddie Mac Primary Mortgage Market Survey (PMMS), the 30-year fixed-rate mortgage collapsed to 2.77 percent in August 2021. For the week ending Oct. 12, 2023, it is close to a 23-year high of 7.6 percent.
Home prices have also surged since the public health crisis, rising nearly 30 percent to a median sales price of $416,100.
The mix of high mortgages and prices has prevented the new generation of homebuyers from achieving the American dream of homeownership. However, anyone who purchased a home before the U.S. central bank launched its quantitative tightening cycle is in good shape: a 2 to 4 percent 30-year mortgage rate and a residential property that has accumulated plenty of equity.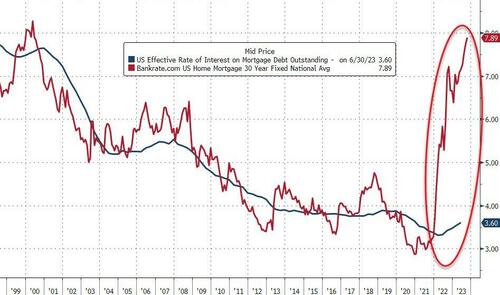 This past summer, a Redfin analysis revealed that 92 percent of homeowners enjoyed a mortgage rate below 6 percent, offering minimal incentive for owners to sell their properties and move to another home with a higher rate. Nearly one-quarter (24 percent) maintain a rate below 3 percent, close to a record high achieved in the first quarter of 2022.
Ultimately, it could be a tale of two housing market participants.
Andy Walden, the ICE vice president of enterprise research, warned that incomes would have to spike 55 percent or home prices would have to collapse 35 percent to restore affordability.
"Those are massive movements we're talking about, and none of them are going to happen in a vacuum, and none of those one single factors are going to make the move," Mr. Walden told CNBC earlier this month.
Mortgage Rates Now and Beyond
The National Association of Home Builders (NAHB)/Wells Fargo Housing Market Index (HMI) found that builder confidence in the real estate market for newly constructed single-family homes slumped for the third consecutive month in October. They are seeing lower levels of buyer traffic as some buyers, including the younger families, are "priced out of the market because of higher interest rates," says NAHB Chairman Alicia Huey, a custom home builder and developer.
"Higher rates are also increasing the cost and availability of builder development and construction loans, which harms supply and contributes to lower housing affordability," Ms. Huey added.
A construction worker carries materials as he works on a home under construction at a housing development in Petaluma, Calif., on March 23, 2022. (Justin Sullivan/Getty Images)
NAHB Chief Economist Robert Dietz noted that one of the primary tools available to solve the housing affordability crisis is contributing "attainable, affordably supply."
"Boosting housing production would help reduce the shelter inflation component that was responsible for more than half of the overall Consumer Price Index increase in September and aid the Fed's mission to bring inflation back down to 2%," he said. "However, uncertainty regarding monetary policy is contributing to affordability challenges in the market."
The September consumer price index (CPI) shelter index is up 7.2 percent compared to a year ago.
While the futures market is pricing in the Fed, keeping rates unchanged at the November and December Federal Open Market Committee (FOMC) policy meetings, the central bank's Summary of Economic Projections suggests officials are planning one more rate hike this year.
In addition, Treasury yields have been accelerating, with the 2-, 10-, and 30-year yields touching their highest levels in 16 years. The volatility in the bond market has played a critical role in the housing market because mortgage lenders tie their interest rates closely to Treasury bond rates.
As a result, Fannie Mae projects that mortgage rates will hover in the 7 percent range for most of next year before sliding to 6.7 percent by the end of 2024.
"In many ways, the housing market experienced four years of business in a two-year period between mid-2020 and mid-2022," said Doug Duncan, Fannie Mae Senior Vice President and Chief Economist.

"With ongoing affordability constraints and rising mortgage rates, much of that activity has essentially been given back. We expect the higher mortgage rate environment to continue to dampen housing activity and further complicate housing affordability into 2024."
The FOMC will hold its next two-day policy meeting on Oct. 31 and Nov. 1.
Loading...