---
US Leading Indicators Tumble For 19th Straight Month, Worst Streak 'Since Lehman'
The Conference Board's Leading Economic Indicators (LEI) continued its decline in October, dropping 0.8% MoM (worse than the 0.7% decline expected).
The biggest positive contributor to the leading index was building permits at +0.03

The biggest negative contributor was ISM N new orders and average consumer expectations both at -0.22
This is the 19th straight MoM decline in the LEI (and 18th month of 19) -  the longest streak of declines since 'Lehman' (22 straight months of declines from June 2007 to April 2008)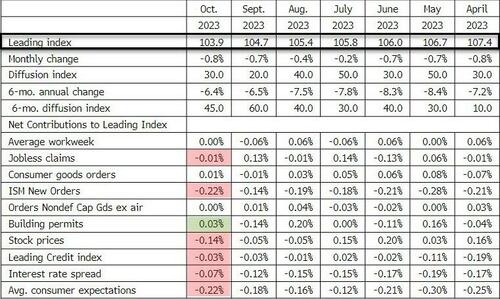 "The US LEI trajectory remained negative, and its six- and twelve-month growth rates also held in negative territory in October," said Justyna Zabinska-La Monica, Senior Manager, Business Cycle Indicators, at The Conference Board.
"Among the leading indicators, deteriorating consumers' expectations for business conditions, lower ISM® Index of New Orders, falling equities, and tighter credit conditions drove the index's most recent decline.

After a pause in September, the LEI resumed signaling recession in the near term.

The Conference Board expects elevated inflation, high interest rates, and contracting consumer spending - due to depleting pandemic saving and mandatory student loan repayments - to tip the US economy into a very short recession.

We forecast that real GDP will expand by just 0.8 percent in 2024."
Despite 'soft landing' hype, the LEI is showing no signs at all of 'recovering', tumbling back in line with the peak in March 2006...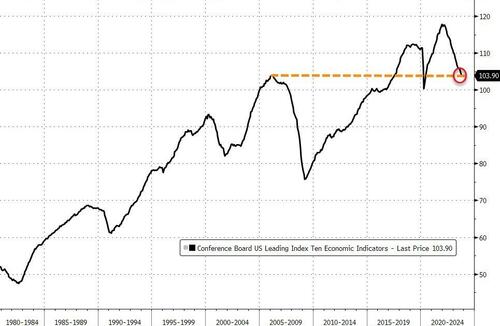 And on a year-over-year basis, the LEI is down 7.6% (down YoY for 16 straight months) - close to its biggest YoY drop since 2008 (Lehman) outside of the COVID lockdown-enforced collapse...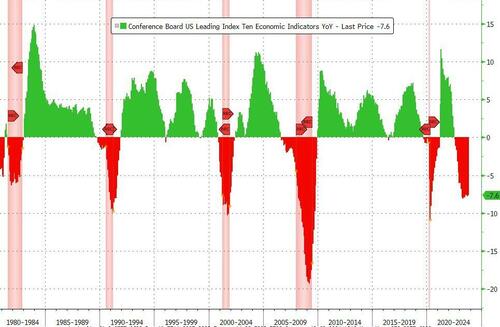 The annual growth rate of the LEI continues to be negative, but may have reached a bottom...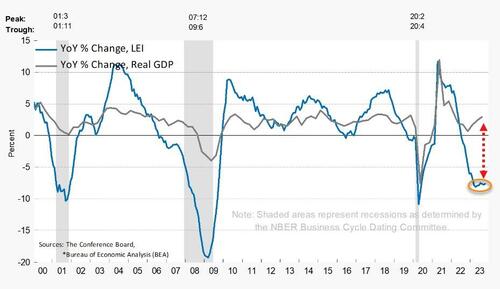 The trajectory of the US LEI continues to signal a recession over the next 12 months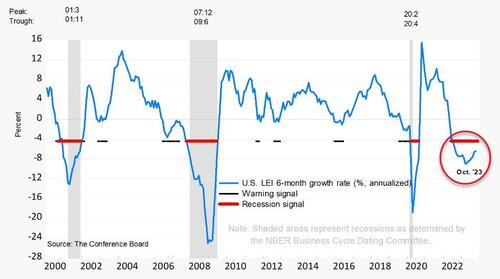 Is this the cleanest view of The Fed's tightening impact on the US economy? Certainly doesn't look like a 'soft' landing...
Loading...