---
US New Home Sales Crashed In August
After months of soaring in the face of higher mortgage rates (and higher prices), new home sales hit a wall in August, crashing 8.7% MoM - the biggest drop since Sept 2022 (and four times worse than the -2.2% MoM expected)...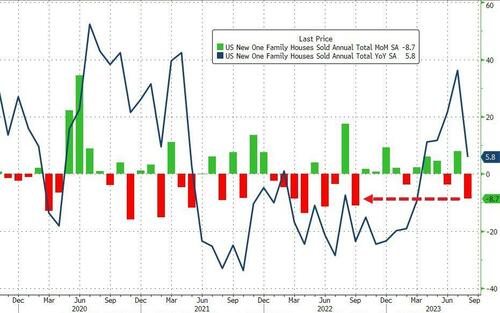 Source: Bloomberg
That is the lowest SAAR since March...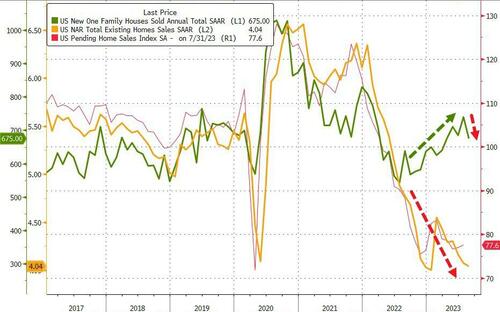 The median sales price of a new home edged lower to $430,300 (average home price rose), according to the Commerce Department's report.
Despite the decline, that's still well above pre-pandemic levels.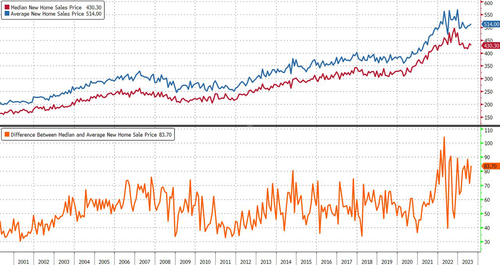 As a reminder, according to a report released Friday by Redfin Corp, nearly 60,000 deals to purchase homes fell through in August (roughly 16% of homes that went under contract last month, the biggest share of cancellations since October).
"I've seen more homebuyers cancel deals in the last six months than I've seen at any point during my 24 years of working in real estate," Jaime Moore, a Redfin agent, said in the report.

"They're getting cold feet."
A potential silver lining is the rising in supply (but now much that is driven by a decline in the denominator - homes sold - vs numerator - homes available; is unclear)...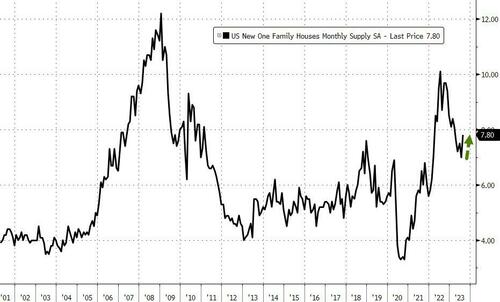 Is the catch-down to reality about to begin?
Source: Bloomberg
They should, given that homebuilders can't be filling this gap - between the current 30Y mortgage rate and the effective rates that borrowers are currently paying on their home loans - (i.e. subsidizing new home sales) forever...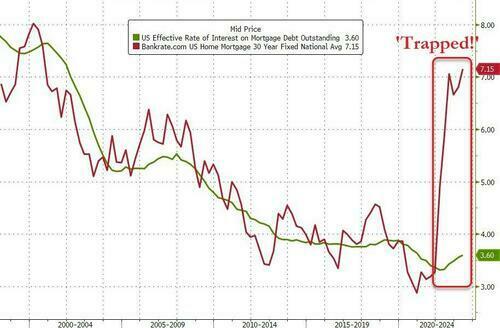 Source: Bloomberg
And investors are starting to wake up too...
Is Jay Powell about to get the 'affordability' compression he was hoping for?
Loading...