---
US New Home Sales Unexpectedly Soar (Again) In November
After an unexpected rebound in October, new home sales are expected to tumble in November (latest data) following the plunge in existing home sales, starts and permits data, and homebuilder sentiment.
Instead - just like in October, new home sales soared (up 5.8% MoM vs -5.1% exp), and October was revised stronger (from +7.5% to +8.2% MoM)...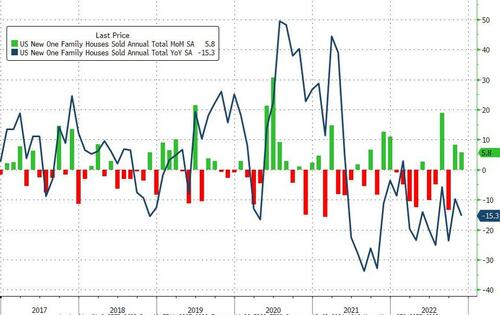 Source: Bloomberg
This is the 3rd month of surging new home sales in the last four, bucking every housing market trend. However, this is the ninth straight month of annual declines in new home sales.
The total new home sales SAAR is hovering around the COVID lockdown lows...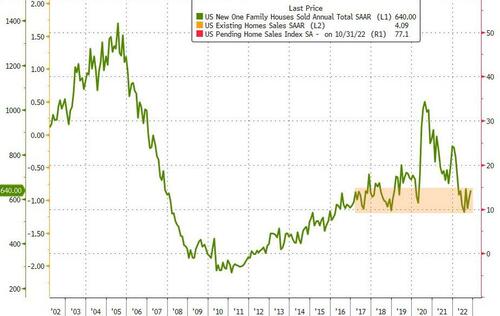 Source: Bloomberg
A mid-month retreat in 30-year mortgage rates back below 7% along with an increase in builder incentives may have helped support demand.
Still, the sales data are volatile from month to month.
The increase in sales last month was concentrated in the West and Midwest.
The median sales price of a new home was up 9.5% from a year earlier to $471,200.
Finally, given the total collapse in homebuilder confidence (about future sales), which still has a long way to go to catch down to the collapse in homebuyer confidence, we would suggest real estate agents 'brace, brace, brace'...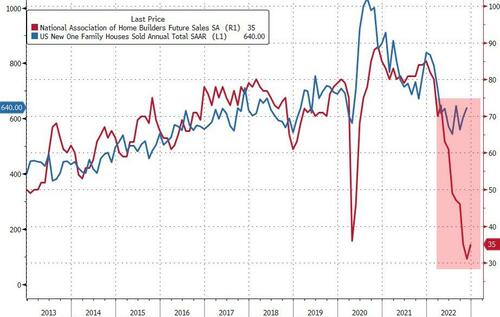 Source: Bloomberg
Is that really where The Fed wants the US housing market to end up?
Loading...