---
US (Nominal) Retail Sales Soared In January
After two straight monthly declines, consensus was for a big rebound (+2.0% MoM) in retail sales in January - with the almost omnipotent forecasters at BofA seeing an even bigger (+3.0%) surge.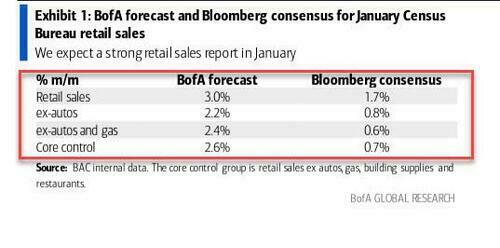 And once again BofA nailed it as headline retail sales soared 3.0% MoM in January. That is the biggest jump since March 2021, lifting the YoY rise in retail sales up to +6.4%...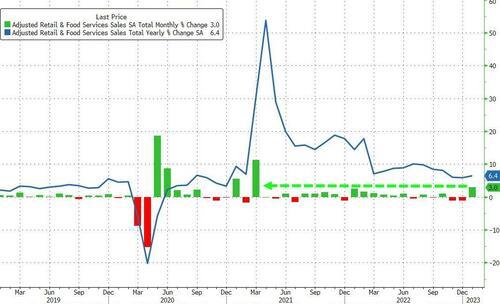 Source: Bloomberg
Core retail sales growth also beat on a MoM basis but the YoY slipped to just +4.4% - lowest since March 2022...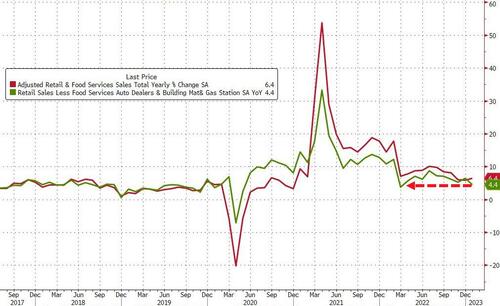 Source: Bloomberg
The control group - which filters directly into GDP - saw a 1.7% surge (far better than the +1.0% exp).
Under the hood, all 13 retail categories rose last month (for the first time since COVID), led by motor vehicles, furniture and restaurants. The report showed vehicle sales climbed 5.9% in January.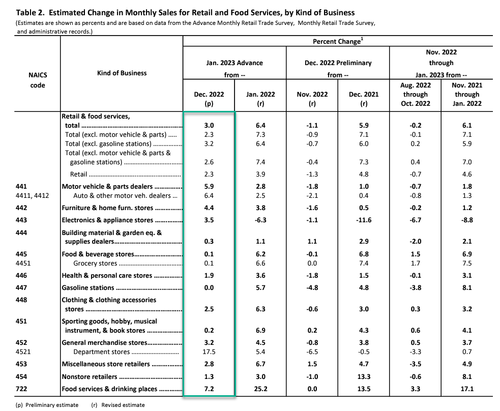 Department stores sales soared 17.5%?!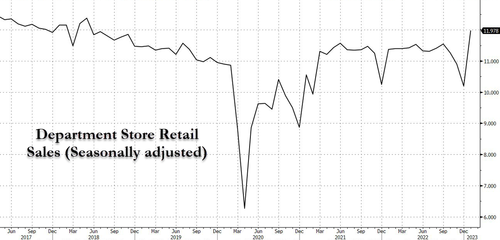 Retail inventories continued to improve marginally but have a long way to go (i.e. lots of overhang still) to normalize back to pre-COVID levels...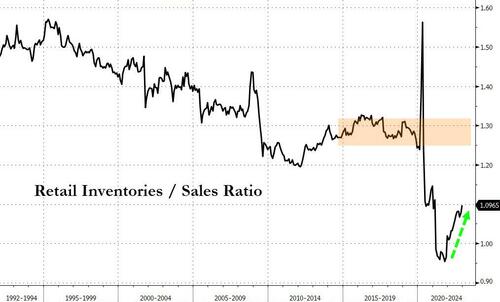 What's really behind the red hot retail sales?
aggressive seasonal adjustments, same as payrolls: one-time

COLA adjustment (+8.7): one-time

post-holiday spending spree to take advantage of liquidation sales: one-time
Those are all one-time factors... so do not extrapolate
Finally, as a reminder, all of this retail sales data is nominal - i.e. not adjusted for inflation. While not comparing apples to apples, adjusting nominal retail sales for CPI shows that Americans' real spending has gone practically nowhere for  10 straight months...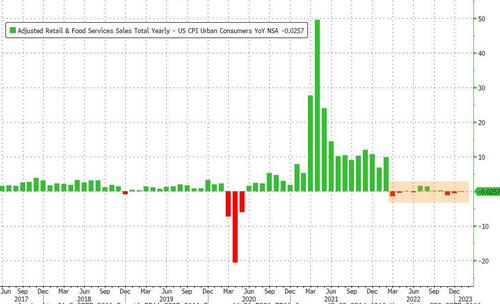 So before you charge off writing about how 'strong' the spending data is, consider how 'strong' the credit card debt load is and how 'weak' the savings rate is for Americans struggling after the 32nd straight month of real income declines.
So hotter than expected payrolls... hotter than expected inflation.. and now hotter than expected retail sales... Get back to work Mr.Powell!
Loading...