---
US Pending Home Sales Plunge More Than Expected In May
After existing home sales were flat and new home sales exploded higher, pending home sales once again are the tie-breaker on May's housing market (and were expected to decline 0.5% MoM). The actual print was considerably worse than expected, down 2.7% MoM (and April was revised down from unch to -0.4% MoM)...
Source: Bloomberg
That is the 3rd monthly decline in a row and leaves pending home sales down 21% YoY.
The resale market continues to face headwinds as high borrowing costs and low supply weigh on sales. Many homeowners who locked in lowers mortgage rates in the past are reluctant to move, adding to inventory constraints that are pushing many buyers into the new-home market and helping keep existing-home sales subdued.
"The lack of housing inventory continues to prevent housing demand from being fully realized," Lawrence Yun, NAR's chief economist, said in a statement.

"It is encouraging that homebuilders have ramped up production, but the supply from new construction takes time and remains insufficient."
Sales declined in three of four regions, with transactions in the Midwest falling to the lowest level since April 2020
So the bifurcation between current home sales (existing and pending) and new home sales continues to gape ever wider...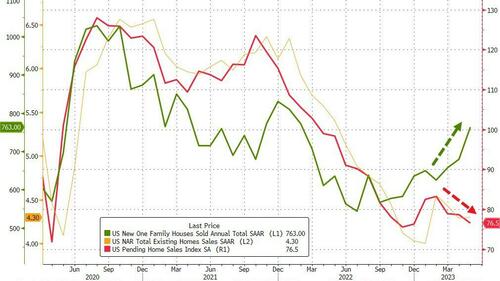 Source: Bloomberg
Of course, bulls will look at new home sales as the resurrection moment; bears will see reality (absent incentives) in the existing sales market. The Fed will not be swayed either way - there is more pain to come. The question is how long can homebuilders soak this up?
Loading...