---
US Pending Home Sales Soar In June... To Highest Since 2006!
After rebounds in new- and existing-home sales, pending home sales in June were expected to continue to surge (after screaming 44% higher MoM in May) and they did, rising 16.6% MoM (beating the 15.0% expectations) and sending the YoY sales number UP 12.7%...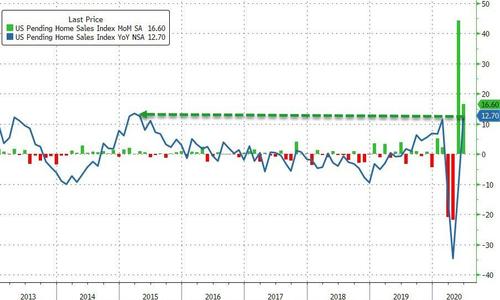 Source: Bloomberg
This is the biggest annual rise in pending home sales in over 5 years as mortgage rates hit record lows.
"It is quite surprising and remarkable that, in the midst of a global pandemic, contract activity for home purchases is higher compared to one year ago," Lawrence Yun, NAR's chief economist, said in a statement.

"Consumers are taking advantage of record-low mortgage rates resulting from the Federal Reserve's maximum liquidity monetary policy."
And the pending home sales index is back at its highest since 2006...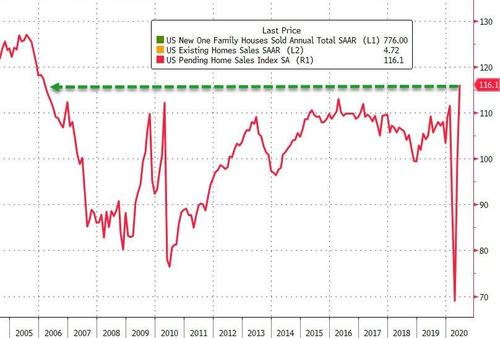 And in case you're wondering why the housing market was able to bounce so quickly in the face of an historic shock which left 22 million people unemployed? Here BofA offers five explanations:
An uneven recession: the shock disproportionally impacted the lower income population who are less likely to be homeowners. Consider that 55% of households earning less than $35K a year lost employment income vs. only 40% of those earning $75K and above. According to the NAR, the median household income of recent homebuyers is $93k.

Record low interest rates: mortgage rates reached a new historic low last week. Average monthly mortgage payments have declined by $80/month relative to this time last year due to lower mortgage rates.

Running lean pre-crisis: inventory was low, home equity was high and debt levels manageable. The homeowner vacancy rate reached the lows of the mid-1990s.

Supportive fiscal and monetary policy: forbearance programs reduced potential stress from delinquencies - according to the MBA, 7.8% of all mortgages were in forbearance as of July 12, which amounts to 3.9mn homeowners.

Pandemic-related relocations: moving to the 'burbs is a real phenomenon. Take NYC - according to data from USPS, the number of mail forwarding requests from NYC spiked to more than 80,000 in April, 4X the pre-COVID-19 monthly pace.
Pending home sales rose in all U.S. regions, including an 11.9% gain in the South that boosted the region's index to the highest in records back to 2001. Purchases also increased 12.2% in the Midwest to the strongest since February 2017 and climbed 11.7% in the West. Contract signings jumped 54.4% in the Northeast to a four-month high.
Yun says that as house hunters seek homes away from bigger cites – likely in an effort to avoid the coronavirus – properties that were once an afterthought for potential buyers are now growing in popularity.