---
US Personal Spending Rebound Continues Despite Sinking Incomes
US Personal spending and income habits are hard to decipher amid the massive government transfers and pent-up (and bought-forward) demand of various items - with spending plummeting and incomes soaring - and June pushed that even further with incomes falling 1.1% MoM, worse than the expected 0.6% drop; and spending rising 5.6% MoM (better than expected 5.2% and off a revised higher May).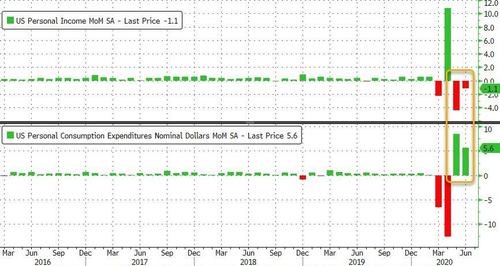 Source: Bloomberg
On a year-over-year basis, incomes remain higher (government transfers) and spending lower...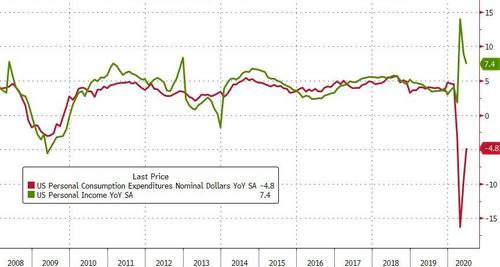 Source: Bloomberg
Government workers saw income losses accelerate as private sector workers saw their income losses rebound somewhat - both still down hard YoY...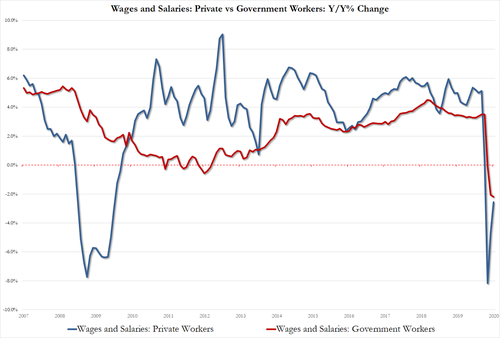 How long will this last as the $600 government handouts to stay home evaporate?
The brief 'forced' savings is starting to disappear...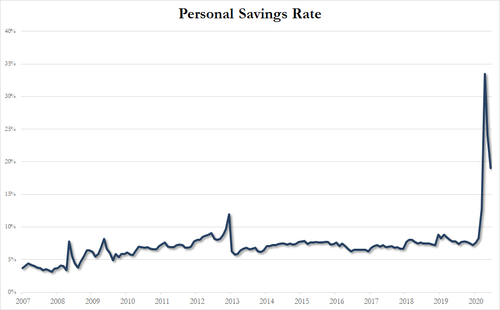 Finally, The Fed's favorite inflation indicator - the Core PCE Deflator - rose by a smaller than expected 0.9% YoY, stuck at its weakest since 2010.