---
US Producer Prices Plunge Most Since COVID Lockdowns
While CPI printed 0.1% lower (headline MoM) - exactly as expected - this morning's headline producer price index was also expected to drop 0.1% MoM "confirming peak inflation" and stoking the fires of 'pause/pivot/soft-landing' narrative buyers.
They were right as the headline PPI print tumbled 0.5% MoM - the biggest monthly drop since April 2020.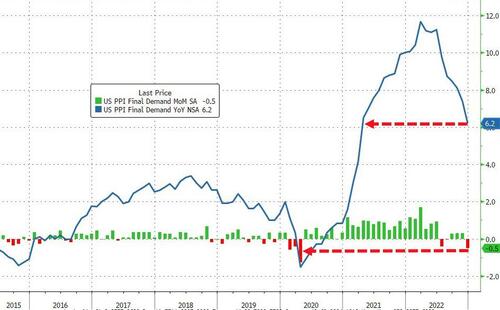 Source: Bloomberg
That dropped the YoY PPI to +6.2%, the lowest since March 2021.
Prices for final demand goods moved down 1.6 percent in December, the largest decrease since falling 1.8 percent in July. Leading the December decline, the index for final demand energy dropped 7.9 percent. Prices for final demand foods decreased 1.2 percent.
Nearly half of the December decrease in the index for final demand goods can be traced to a 13.4-percent decline in prices for gasoline. The indexes for diesel fuel; jet fuel; fresh and dry vegetables; canned, cooked, smoked, or prepared poultry; and basic organic chemicals also fell. In contrast, prices for carbon steel scrap increased 8.3 percent. The indexes for chicken eggs and for electric power also moved higher.
Prices for final demand services edged up 0.1 percent in December after rising 0.2 percent in November. The December increase can be traced to margins for final demand trade services, which advanced 0.3 percent. (Trade indexes measure changes in margins received by wholesalers and retailers.) Conversely, the index for final demand transportation and warehousing services fell 0.2 percent, while prices for final demand services less trade, transportation, and warehousing were unchanged.  
A major factor in the December increase in prices for final demand services was a 17.6 percent jump in margins for fuels and lubricants retailing. The indexes for deposit services (partial), airline passenger services, inpatient care, and professional and commercial equipment wholesaling also moved higher. In contrast, prices for truck transportation of freight decreased 1.7 percent. The indexes for residential real estate loans (partial), machinery and vehicle wholesaling, and guestroom rental also fell.
The outlook for headline PPI is also trending lower as intermediate demand PPI is slowing rapidly...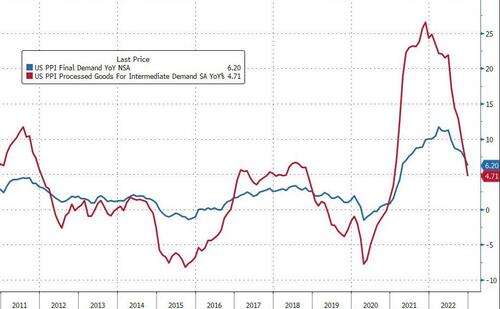 Source: Bloomberg
One more silver lining for corporations, CPI printed higher than PPI for the first time since Dec 2020 (easing margin pressures broadly speaking)...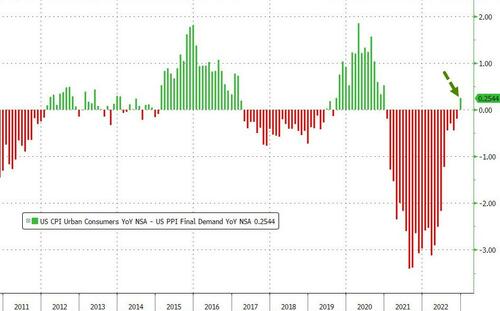 Source: Bloomberg
However, it wasn't all great news (for the peak inflation-ers), as Core PPI (excluding the volatile food and energy components) actually rose 0.1% MoM.
This will be greeted as good news by the market but maybe worrisome for its "unwarranted easing" effects by The Fed.
Loading...