---
US Retail Sales Collapse In February, Online Sales Plunge
After the huge surge in January, analysts expected retail sales to shrink MoM in February (and BofA's credit card data signaled a disaster) and it did - by far more than consensus expected. Retail sales tumbled 3.0% MoM in Feb, far more than the 0.5% drop expected and the biggest drop since April's collapse...
Source: Bloomberg
The Control Group - which is used for GDP - plunged 3.5%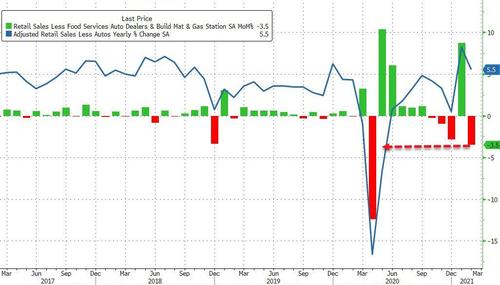 Source: Bloomberg
There appear to be three reasons for huge retail sales miss:
1. payback from the stimulus-induced gain in January;

2. delayed tax refunds;

3. Winter blizzard.
Interestingly, non-store retailer sales plunged 5.4%...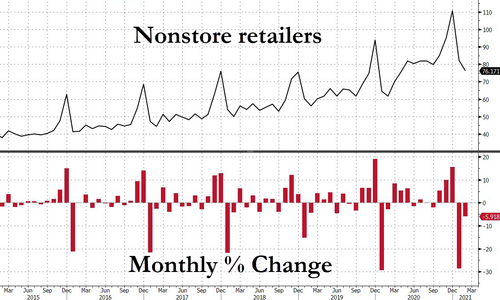 Source: Bloomberg
All categories were down except food and beverage (unch) and Gas Stations (+3.6%)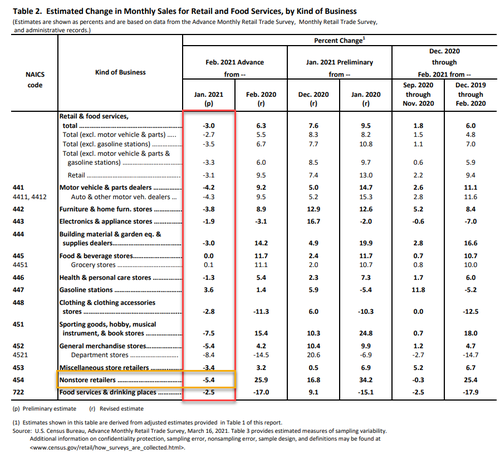 Year-over-year gains in retail sales slowed but remains high thanks to all the government handouts...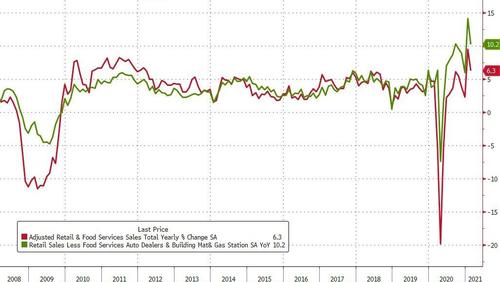 Source: Bloomberg
Finally, on the bright side, BofA's chief economist Michelle Meyer says that she is seeing – and expects to continue to observe – "a decisive improvement in spending in March after the weakness at the end of February" which leads it to conclude that the drop is transitory given the strong data in the first week of March, the likely distribution of stimulus checks before month end and delayed tax refunds.
CNBC's Steve Liesman summed things up rather pathetically - it will be months before we have to worry about whether the average American can stand on their own two feet, without the support of government handouts.
So, do retail sales numbers actually mean anything in this context?