---
Used Vehicle Prices Explode To All Time Highs After Plunging Just Months Ago
When you have the Central Bank back-stopping every industry in the United States, it's incredible how quickly things can change over the course of less than a quarter. 
Less than two months ago we were talking about the unprecedented crash in used car prices that had taken place as a result of the coronavirus pandemic slowing the economy. "Where's the inflation?" everyone kept asking.
We think we've found it. Today, according to new research from Manheim, those prices have exploded to hit new all time highs. The Manheim Used Vehicle Value index climbed to 163.4 in the first 15 days of August from 158.0 in July.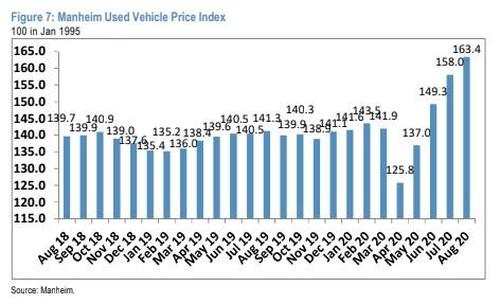 "Prices rose another +3.4% sequentially in the first 15 days of August after rising +5.8% m/m in July," a new note from J.P. Morgan highlights. It continues: "With the Manheim Index at 163.4 in early August (January 1995 = 100), used prices are now +13.9% higher vs. the then record level in February just prior to the pandemic and are +15.6% y/y."
J.P. Morgan notes that "Since April, the Manheim Used Vehicle Value index recovered +8.9% m/m in May, +9.0% m/m in June, +5.8% m/m in July, and is now +3.4% m/m in the first 15 days of August. Stronger prices suggest potential gains on sale of off-lease vehicles and higher collateral value, helping reduce loan losses."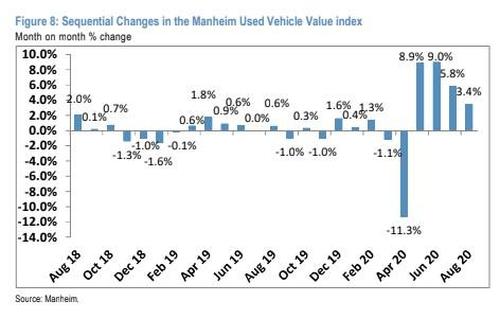 The note predicts that prices should see some respite heading into the fall, as "pent up demand" as a result of the Covid-19 pandemic should subside. Most of this demand has already been satisfied, according to Manheim, and consumers are growing "increasingly frustrated" from the high prices. 
It's worth noting, however, that these same prognosticators were predicting a "sharp drop" in prices heading into the back end of the summer. That obviously didn't materialize. Additionally, the same note says that consumers could be waiting for a second round of stimulus to purchase a vehicle.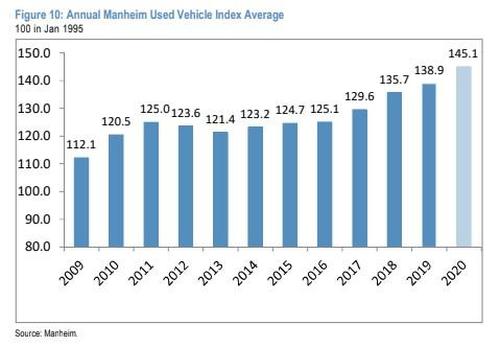 Recall, it was just two months ago that we had put out a note highlighting where used car prices were crashing the most in the U.S. 
Back in June, Manheim indicated that wholesale prices dropped as much as 11% in April, but also that this price drop hadn't fully hit the retail market yet. The report predicted at the time that since "dealers have largely avoided purchasing new inventory in recent weeks, they aren't in a rush to cut prices as a way to move their existing inventory."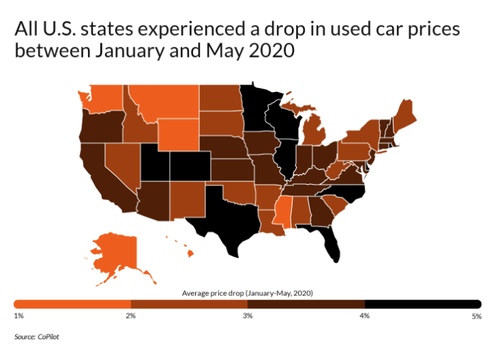 It also predicted a sharp drop in retail prices in the coming weeks, stating that "a combination of record supply, damaged consumer confidence, and new car incentives will ultimately create a perfect storm causing retail prices to drop sharply in the coming weeks."
Between January and May, individual U.S. states experienced price drops ranging from 1% to 5%, the report showed.
Those days now seem to be distant memories...