---
Virus Could Push 150 Million People Into Extreme Poverty  
The World Bank suggested upwards of 150 million people could be pushed into "extreme poverty" due to the virus pandemic, erasing nearly three years of progress in global poverty reductions. 
According to the report, for the first time in two decades, the virus pandemic, compounded by the effects of climate change, are slowing poverty reduction progress, resulting in an additional 88 million to 115 million people falling into extreme poverty this year, with total estimates of 150 million in 2021, depending on the economic recovery shape. 
The biennial Poverty and Shared Prosperity Report defines "extreme poverty" as living on less than $1.90 per day, which is likely to affect between 9.1%-9.4% of the world's population this year. With the world's poverty rate expected to rise this year, it would mean extreme poverty is at 2017's 9.2% level, marking the first rise in the poverty rate in two decades. The rate was expected to drop to 7.5% by 2021 before the coronavirus pandemic.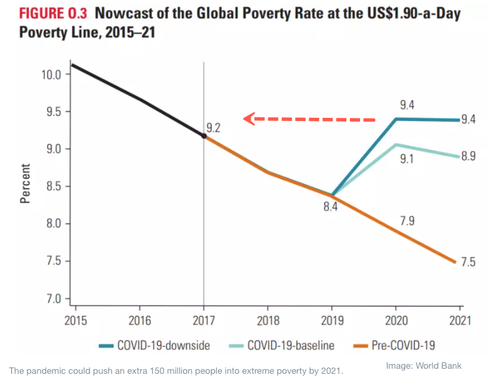 World Bank President David Malpass stated the virus pandemic and a global recession is a "serious setback to development progress and poverty reduction."
About 10% of the world's population lives on less than $1.90 per day, close to 25% live on less than $3.20 per day, and about 40%, or about 3.3 billion people on planet Earth, live on less than $5.50 per day. 
"The current moment of crisis is extraordinary. No prior disease has become a global threat so quickly as Covid-19. Never have the world's poorest people resided so disproportionately in conflict-affected territories and countries. Changes in global weather patterns induced by human activity are unprecedented," said the report.
The report estimates by 2030, the global poverty rate could decline to 7%, but as Malpass explained: 
"In order to reverse this serious setback to development progress and poverty reduction, countries will need to prepare for a different economy post-COVID, by allowing capital, labor, skills, and innovation to move into new businesses and sectors. World Bank Group support—across IBRD, IDA, IFC, and MIGA—will help developing countries resume growth and respond to the health, social, and economic impacts of COVID-19 as they work toward a sustainable and inclusive recovery."
Much of the new poor will be concentrated in countries with already high poverty rates. 
"A number of middle-income countries will see significant numbers of people slip below the extreme poverty line. About 82% of the total will be in middle-income countries," the report estimates.
A similar World Bank report was released in August when it called for upwards of 100 million people to slide into extreme poverty. Both reports are evident of global poverty rates continuing to worsen. 
A top IMF official recently pointed out that the global recovery could take years - the 2020s could be a lost decade with soaring wealth inequality as governments worldwide are overwhelmed by poverty.